Publication:
El estudio de las localizaciones cerebrales en los albores del siglo XX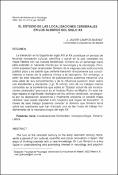 Advisors (or tutors)
Editors
Abstract
The turn of the ninetieth century represents a period of rich cultural, scientific and social renovation in Spain. As it occurs all over the world the old ways of thinking coexisted with a new knowledge. Dr Luis Simarro is a key figure in understanding and promoting interest in neurology and psychology in Spain. Simarro was a man who came from the Free Institution of Education and therefore, according to Cajal, Simarro published only a few works. Instead he preferred to instruct his students directly through the laboratory and the clinical practice. Nonetheless, from a few available papers of Simarro, we can have an idea about his knowledge and the great influence he had over his disciples (v. gr. Rodriguez Lafora). One of his lesser-known papers is his lecture on "The state-of-the-art of cerebral localization" that he pronounced at the Instituto Rubio in Madrid. The paper appeared in 1910 and reviews the physiological significance of the cerebral centers. He ponders over the anatomic localization and suggests a cerebral map based on the recent works of Jolly and Simpson. This paper shows the profound knowledge Simarro had in one of the fundamental lines of work of the neuropsychology of the XX Century. [RESUMEN]La transición en la España del siglo XIX al XX constituye un periodo de fecunda renovación cultural, científica y social en la que coexisten los viejos hábitos con las nuevas tendencias. Simarro es un personaje clave para entender el naciente interés por la neurología y la psicología. Pero, como expresa Cajal, al proceder Simarro de la vieja escuela institucionista publicó poco y es sabido que prefería transmitir directamente sus conocimientos a través de la práctica clínica y el laboratorio. Sin embargo, a partir de este reducido número de publicaciones podemos hacernos una idea cabal de sus conocimientos y de la influencia pudieron tener sobre sus estudiantes y discípulos (v.gr. R.Lafora) . Uno de los trabajos menos conocidos es la conferencia que sobre el "Estado actual de las localizaciones cerebrales" pronunció en el Instituto Rubio de Madrid. En este trabajo repasa el significado fisiológico de los centros cerebrales, se pregunta por su disposición anatómica y finalmente presenta un posible mapa cerebral "que puede importar a los cirujanos que hayan de buscarlos" A través de este trabajo podemos conocer el dominio que Simarro tenía sobre las cuestiones que han marcado una de las lineas de trabajo fundamentales de la neuropsicología del siglo XX.
Citation
Brodmann, K. (1909) Vergleichende Lokalisationlehre der Grosshimrinde in ihren Prinzipien dargestelft auf Grund des Zel/enbaues. Leipzíg: JABarth. Campbell, AW. (1905) Histological Studies on the Localization of Cerebral Function. Cambrigde: University Press. Franz, S. 1. y Lafora, G. R. (1911). On the Functíons of the Cerebrum: the Occipital Lobes. The Psychological Review. Psychological Monographs. 13 (4). Fritsch, G. y Hitzig, E. (1870). Ueber die elektrische Erregbarkeit de Grosshirns. Arch. Anal. Physiolo. Wiss. Med., pp. 300-332. (Reeditado en G. von Bonin ed . 1960, Some Papers on the Cerebral Cortex. Springfield, 111. Thomas, pp. 73-96). Lafora, G.R. (1913) Doctrina de la localización en el Sistema Nervioso Central. Su Historia y sus recientes progresos Madrid. Imprenta Alemana. Ramón y Cajal, S (1923) Recuerdos de mi vida. Madrid: J.Pueyo Simarro, L. (1910) Estado actual de las localizaciones cerebrales. Archivos Españoles de Neurologla, Psiquiatría y Fisioterapia, I (octubre) 10, 321-343. Tigerstedt, R. 1910 Handbuch der physiologischen Methodik, Leipzig: Verlag von S Hirzel.
Collections