Publication:
Avances sobre el margen:hacia el modernismo argentino a través de lo "maldito"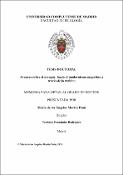 Files
Advisors (or tutors)
Editors
Publisher
Universidad Complutense de Madrid
Abstract
La presente tesis, Avances sobre el margen: hacia el modernismo argentino a través de lo 'maldito', tiene como objeto el comprobar, a partir de ciertos parámetros que previamente considerábamos esenciales para definir el fenómeno de lo maldito, cómo y en qué grado tal fenómeno llegará a verificarse dentro del hecho literario en sí. Concretamente, en el correspondiente a una serie de autores argentinos que, alrededor de las dos, o incluso tres, últimas décadas del 1800, presentaban ya propuestas ideológicas y estéticas precursoras, en más de un sentido, de las del modernismo propiamente dicho.Este enfoque nos lleva, pues, a la búsqueda de determinados aspectos de sus obras, que nos puedan sugerir que avanzar hacia ese modernismo también implique, quizás, el no poder hacerlo a no ser por un camino hasta cierto punto marginal, hasta cierto punto prohibido y, aunque bello, por todo esto maldito...
The purpose of this thesis, Advances in the Margin: Towards Argentinian Modernism through the 'Accursed', is to see, based on certain parameters that we previously deemed critical to define the phenomenon of the accursed (le maudit), how and to what degree such phenomenon came to take place within the literary fact itself. Specifically, within that of a number of Argentinian authors who, around the last two or even three decades of the 1800s, already put forward certain ideological and aesthetic proposals that were precursors, in more than one sense, of modernism itself.This approach leads us, then, to a search for certain aspects of their works that may suggest that advancing towards that modernism may also imply, perhaps, the impossibility of doing it except along a path that is, up to a point, marginal; up to a point, forbidden; and, although beautiful, accursed because of all this...
Description
Tesis inédita de la Universidad Complutense de Madrid, Facultad de Filología, Departamento de Literaturas Hispánicas y Bibliografía (Literatura Hispanoamericana), leída el 29-11-2019
Collections