Publication:
Natural product-related multitarget-directed ligands for the potential treatment of neurodegenerative diseases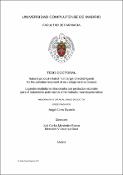 Authors
Advisors (or tutors)
Editors
Publisher
Universidad Complutense de Madrid
Abstract
Neurodegenerative diseases are characterized by the loss of neurons in the brain and/or spinal cord and constitute one of the most important health problems worldwide. Although these diseases have different etiologies and clinical manifestations, they share many mechanistic pathways, including: protein misfolding, neuroinflammation, impaired mitochondrial function, increase in oxidative stress, mitochondrial disfunction, alterations in calcium homeostasis, etc...
Las enfermedades neurodegenerativas se caracterizan por la pérdida de neuronas en el cerebro y/o en la medula espinal y constituyen uno de los más importantes problemas de salud a nivel mundial. A pesar de que estas enfermedades tienen diferentes etiologías y manifestaciones clínicas, comparten diversos mecanismos, incluyendo: incorrecto plegamiento de proteínas, neuroinflamación, función mitocondrial dañada, aumento en el estrés oxidativo, disfunción mitocondrial, alteraciones en la homeostasis del calcio, etc...
Collections