Publication:
Nuevos paisajes de la memoria: en torno al teatro feminista de Itziar Pascual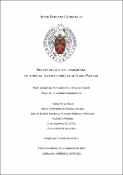 Authors
Advisors (or tutors)
Editors
Abstract
El presente trabajo tiene como objeto de estudio el teatro de Itziar Pascual (1967), a quien podemos tomar como figura central del movimiento dramatúrgico que la crítica ha venido llamando «Generación de los 90» o «Generación Bradomín». Indisoluble como es su producción de las defensas feministas, este estudio pretende dar cuenta de sus tendencias estéticas y formales desde el enfoque propio de los Estudios de Género. Para ello, se detendrá en analizar el continuo esfuerzo de innovación formal y escenográfica presente en Pascual, pero también su propósito último: servir de altavoz para dignificar a aquellas mujeres que se vieron y ven sepultadas por el discurso histórico oficial. Con el fin de ofrecer una imagen global y coherente de todo ello, este trabajo se detendrá en una de las obras de la autora, "Eudy" (2014), una suerte de tragedia contemporánea que recoge en buena medida todas las cuestiones esenciales en Pascual.
The present Master's thesis studies Itziar Pascual's (1967) theatre, which can be considered as a leading work in the dramatic movement that critics have named «Generación de los 90» or «Generación Bradomín». As her production is strongly linked to the feminist struggle, this research is willing to analyze her aesthetic and formal tendencies from the Women Studies' perspective. In order to achieve that, not only we will look into Pascual's continuous innovative effort in terms of scenography and writing, but also into her main aim: being able to serve as a loudspeaker for feminine voices that were disregarded and forgotten by the historical discourse. Furthermore, this work will also pay attention to one of Pascual's latest plays, "Eudy" (2014), a so-called «contemporary tragedy» that collects every key issue in her dramaturgy, so as to project a global image of her art.