Publication:
Measurement of the delayed neutron emission probability of ⁸⁶As and ⁹¹Br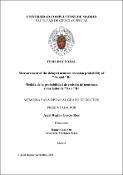 Files
Authors
Advisors (or tutors)
Editors
Publisher
Universidad Complutense de Madrid
Abstract
Nuclear technology developments and nuclear astrophysics studies impose high data requirements on neutron-rich nuclei in terms of amount and quality. Radioactive decay data on -delayed neutron emitters are of particular relevance given the important role delayed neutrons play in both fields. In 2013, the International Atomic Energy Agency (IAEA) started Coordinated Research Project (CRP) on a reference database for beta-delayed neutron emission evaluation [170]. The database, which is in the process of publication [168], includes -delayed neutron emission probabilities for 309 nuclei, about a hundred more than Evaluated Nuclear Structure Data File (ENSDF) to date (as of July, 2020) [7,8]. But there is a long road ahead to meet the delayed neutron data requirements of nowadays nuclear science and technology. The recent large-scale theoretical evaluation by Marketinet al. [6] on 5409 neutron-rich nuclei predicts that 90% of them are -delayed neutron emitters...
El desarrollo de tecnología nuclear y los estudios de astrofísica nuclear imponen altos requerimientos en términos de cantidad y calidad a los datos nucleares de núcleos ricos en neutrones. Los datos sobre el decaimiento radioactivo de núcleos emisores de neutrones retardados son de particular relevancia dado el importante papel que estos neutrones juegan en ambos campos. En 2003, la Organización Internacional de la Energía Atómica (OIEA)comenzó un Proyecto de Investigación Coordinado (CRP) para la creación de una base de datos de referencia para evaluaciones de la emisión de neutrones retardados tras el decaimiento beta. La base de datos, que está en proceso de publicación [168], incluye probabilidades de emisión de neutrones retardados para 309 núcleos, aproximadamente cien más que el Evaluated Nuclear Structure Data File (ENSDF) a día de hoy (a Julio, 2020) [7,8].Sin embargo, queda un camino muy largo por recorrer para satisfacer los requerimientos de la ciencia y la tecnología nuclear actuales. La reciente evaluación teórica a gran escala de Marketin y col. [6] sobre 5409 núcleos ricos en neutrones predice que el 90% de ellos emiten neutrones retardados tras el decaimiento beta...
Description
Tesis inédita de la Universidad Complutense de Madrid, Facultad de Ciencias Físicas, leída el 15-12-2020
Collections