Publication:
Las literaturas china y española frente a frente: recepción, influencias y perspectivas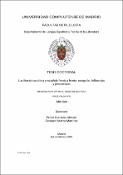 Files
Authors
Advisors (or tutors)
Editors
Publisher
Universidad Complutense de Madrid
Abstract
Esta investigación es un estudio de Literatura comparada que pone en relación la literatura china y la española, estableciendo influencias y resaltando las posibilidades y perspectivas de interrelación entre ambas culturas. Para ello, se seguirán los principios y métodos del comparatismo. El trabajo consta de una primera parte en la que se exponen las relaciones culturales y literarias entre ambas literaturas, y se reflexiona sobre las cuestiones provenientes del comparatismo, como la genología, la periodización y los estudios sistémicos, así como la recepción literaria mediante la traducción. La segunda parte y la tercera están dedicadas a establecer dos modelos y perspectivas diferentes del estudio comparativo. En particular, la segunda se centra en comparar el modernismo literario español y el chino, abordando los temas de la periodización, los cambios de las estéticas e ideas durante este periodo. En la tercera parte se comparan dos novelas contemporáneas que consideramos ejemplares para la plasmación de todas las ideas que hemos desarrollado en los dos puntos anteriores...
This investigation is a comparative literature study of Chinese and Spanish literature that hopes to establish influences and to highlight the possibilities and perspectives of the interrelation between Spanish and Chinese cultures. In order to meet my objectives, my study is guided by the principles and the methods of comparatism. This investigation consists of a first chapter that analyzes the cultural and literary relationships that exist between Spanish and Chinese literatures, and reflects on issues arising from comparatism, such as genre, periodization and systemic studies, as well asissues related to literary reception through translation. The second and the third chapters are dedicated to establishing two different models and perspectives employed during my comparative study. Specifically, the second chapter focuses on comparing Spanish and Chinese literary modernism, addressing the issues of periodization, changes in aesthetic principals and new concepts that emerged during the time periods studied. In the third chapter, I analyze and compare two twentieth century Spanish and Chinese novels: Camilo Jose Cela's La familia de Pascual Duarte (1942) and Yu Hua's ¡Vivir! (1993)...
Description
Tesis inédita de la Universidad Complutense de Madrid, Facultad de Filología, Departamento de Lengua Española y Teoría de la Literatura, leída el 03/06/2019
Collections