Publication:
First record of a nonpaleotropical intejocerid cephalopod from Darriwilian (Middle Ordovician) strata of central Spain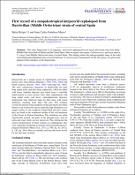 Advisors (or tutors)
Editors
Abstract
The order Intejocerida is an enigmatic, short-lived cephalopod taxon known previously only from Early–Middle Ordovician beds of Siberia and the United States. Here we report a new genus, Cabaneroceras, and a new species, C. aznari, from Middle Ordovician strata of central Spain. This finding widens the paleogeographic range of the order toward high-paleolatitudinal areas of peri-Gondwana. A curved conch, characteristic for the new genus, was previously unknown from members of the Intejocerida.
Collections