Publication:
Personas y comunidades: Actas del Segundo Congreso Internacional de Buenas Prácticas en Patrimonio Mundial: (29 -30 de abril, 1 y 2 de mayo de 2015)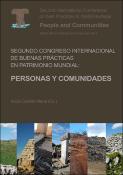 Authors
Advisors (or tutors)
Publisher
Universidad Complutense de Madrid, Servicio de Publicaciones
Abstract
Este volumen está compuesto por una introducción y los textos de las comunicaciones y pósteres del congreso internacional, con una participación de 30 países y casi 100 centros de investigación. Recoge un documento de Buenas Prácticas sobre el tema.
This volume has an introduction and the texts of the communications and posters of the international Congress, with the participation of 30 countries and around 100 research centers. Besides, it includes a Best Practices document on the subject.
Citation
Castillo, A. Ed. (2012) Actas I Congreso Internacional de Buenas Prácticas en Patrimonio Mundial: Arqueología/Proceedings of the I Internacional Conference on Best Practices in World Heritage: Archaeology. Menorca, Abril 2012. Madrid. Ed. Universidad Complutense de Madrid. Enlace a la primera parte/Link first part (p. 1-589): https://www.ucm.es/data/cont/docs/3-2013-02-07-1-589.pdf Enlace a la segunda parte/Link second part (p. 590-1076): https://www.ucm.es/data/cont/docs/3-2013-02-07-590-1076.pdf
Collections