Publication:
La intervención en el espacio público como recurso didáctico en la ESO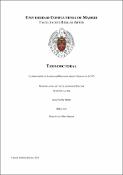 Authors
Advisors (or tutors)
Editors
Publisher
Universidad Complutense de Madrid
Abstract
La tesis doctoral titulada La intervención en el espacio público como recurso didáctico en la ESO, comienza planteando la idea del inicio profesional de la docencia como un reto personal, en cuanto a cómo afrontar sus experiencias laborales. Las iniciativas que aparecen sobre dicho reto hacen referencia, por lo general, al intento de alcanzar innovaciones metodológicas de enseñanza y aprendizaje, que sean motivadoras. Debido a tal cuestionamiento, desarrolla una amplia investigación teórica y práctica, que deberían servir de efecto para ampliar el asunto innovador de forma eficaz y actualizada. Siguiendo su propuesta, inicia un estudio teórico sobre el estado de la cuestión, analizando varios aspectos a tener en cuenta. Uno de ellos es el paradigma que nos toca vivir, pudiendo adoptar con su conocimiento, enfoques educativos más significativos. En cuanto a dicho tema, identifica a la actualidad como un paradigma que parece desafiar las concepciones tradicionales de la vida social, las cuales veníamos experimentando como inmutables. A continuación hace referencia a ideas y autores, que ya vienen de un largo movimiento reformista, suscitando planes de escolarización más abiertos y flexibles en extremo. Otro aspecto, siguiendo el relato transformador, indica la posibilidad de acoger nuevas influencias educativas considerando la diversa y amplia oferta cultural y de ocio existente. La intención vendría a transcribir algunas de sus exitosas características en el ámbito escolar, entre las que pueden ser por ejemplo, el hecho de regular una participación inclusiva de muchas personas a través de sus propios intereses y desde su libre elección. Como última pieza, en la investigación teórica, establece el análisis sobre distintas herramientas utilizadas en el acto educativo como son el currículum, la figura del docente, la experiencia del alumnado en el aula y las orientaciones del sistema de evaluación académica...
The Phd thesis titled Intervention in plubic areas as a teaching resource in Secondary Education starts introducing the idea of the professional beginning of teaching as a personal challenge, in respect to how to face its working experiences. Then, it explains that such initiatives are referred, generally, to the attempt of reaching innovative learning-teaching methods which, mostly, are motivating. Because of this reasoning, the Phd thesis develops a wide research, which should be useful to go deeper into the innovative matter in an efficient and updated way. Following this proposal, the Phd thesis introduces a theorical study that presents an idea about the matter developing several points to consider. It firstly introduces the paradigm we are living in, where more significant educative perspectives can be adopted. Related to this, it shows a description about today identified as a paradigm that seems to defy the traditional ideas about social live, which were being considered unchangeable. Then, it refers to ideas and scholars, that have a long reforming tradition, raising more opened and flexible schooling plans. After this, in the transformative tale, it indicates the chance of picking up some educative influences considering the diverse and wide cultural and leisure offers external to the school environment. The intention would transcribe into the school some of its successful characteristics, among which, the fact of regulating an inclusive participation of many people through its own interests and free-will. Finally, in the research, it establishes the analysis about different tools used in teaching such as the curriculum, the teacher, the students' experience in the classroom and the orientations of the evaluation system...
Description
Tesis inédita de la Universidad Complutense de Madrid, Facultad de Bellas Artes, leída el 27/01/2021
Collections