Publication:
Aeolian dune development in an Albian arid coastal braidplain system in Serranía de Cuenca (Iberian Basin, Spain)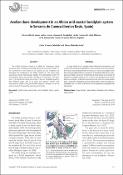 Advisors (or tutors)
Editors
Publisher
Sociedad Geológica de España
Abstract
The Utrillas Sandstone Group is an Albian to Cenomanian clastic succession which is widely spread along most areas in the Iberian Basin. In the Southwestern sector (Serranía de Cuenca) an arid braidplain was developed and connected to the Tethys towards SE, thus some facies associations present tidal features. Aeolian dune development within the arid braidplain system was possible, although as a minor feature. This paper aims: 1) to describe the facies associations of the arid braidplain regarding their different origin, and 2) to study and interpret aeolian dune accumulations based on the granulometric study of 5 samples and on the outcrop study of the geometry and surfaces hierarchy.
El Grupo Utrillas es una sucesión clástica Albiense-Cenomaniense la cual se encuentra ampliamente extendida en todo el contexto de la Cuenca Ibérica. En el sector Suroccidental (Serranía de Cuenca) un sistema de braidplain árido fue el principal paleoambiente. Este sistema de braidplain árido estuvo conectado con el Tethys hacia el SE. El desarrollo de dunas eólicas en el sistema de braidplain fue posible aunque no son una facies muy abundante. Este artículo tiene como objetivo: 1) describir las asociaciones de facies del sistema braided árido, y 2) estudiar e interpretar las dunas eólicas sobre la base del analisis granulométrico de 5 muestras y del estudio de la arquitectura estratigráfica del afloramiento.
Collections