Publication:
Interpretation of the LHCb P-c (4312)(+) Signal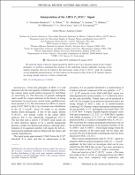 Advisors (or tutors)
Editors
Publisher
American Physical Society
Abstract
We study the nature of the new signal reported by LHCb in the J/psi p spectrum. Based on the S-matrix principles, we perform a minimum-bias analysis of the underlying reaction amplitude, focusing on the analytic properties that can be related to the microscopic origin of the P-c(4312)(+) peak. By exploring several amplitude parametrizations, we find evidence for the attractive effect of the Sigma(+)(c)(D) over bar (0) channel, which is not strong enough, however, to form a bound state.
Description
© 2019 American Physical Society We thank Tomasz Skwarnicki for discussions and useful comments on the manuscript. This work was supported by the U.S. Department of Energy Grants No. DE-AC05-06OR23177 and No. DE-FG02-87ER40365, U.S. National Science Foundation Grant No. PHY-1415459, PAPIIT-DGAPA (UNAM, Mexico), Grant No. IA101819, and CONACYT (Mexico) Grants No. 734789, No. 251817, and No. A1-S-21389. V. M. acknowledges support from Comunidad Autonoma de Madrid through Programa de Atraccion de Talento Investigador.
Collections