Publication:
Evidence for Unknown Sarcocystis-Like Infection in Stranded Striped Dolphins (Stenella coeruleoalba) from the Ligurian Sea, Italy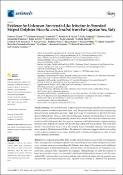 Advisors (or tutors)
Editors
Abstract
Two striped dolphins (SD1, SD2), stranded along the Ligurian coast of Italy, were diagnosed with a nonsuppurative meningoencephalitis associated with previously undescribed protozoan tissue cysts. As tissue cysts were morphologically different from those of Toxoplasma gondii, additional histopathological, immunohistochemical, ultrastructural, and biomolecular investigations were performed, aiming to fully characterize the organism. Histopathology revealed the presence of large Sarcocystis-like tissue cysts, associated with limited inflammatory lesions in all CNS areas studied. IHC was inconclusive, as positive staining with polyclonal antisera did not preclude cross-reaction with other Sarcocystidae coccidia. Applied to each animal, 11 different PCR protocols precluded a neural infection by Sarcocystis neurona, Sarcocystis falcatula, Hammondia hammondi, and Neospora caninum. T. gondii coinfection was confirmed only in dolphin SD2. Sarcocystis sp. sequences, showing the highest homology to species infecting the Bovidae family, were amplified from SD1 myocardium and SD2 skeletal muscle. The present study represents the first report of Sarcocystis-like tissue cysts in the brain of stranded cetaceans along with the first description of Sarcocystis sp. infection in muscle tissue of dolphins from the Mediterranean basin.
Collections