Publication:
Freud superficial: imagen, síntoma y superficie desde el psicoanálisis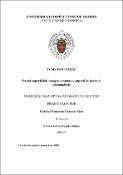 Authors
Advisors (or tutors)
Editors
Publisher
Universidad Complutense de Madrid
Abstract
El propósito de este trabajo es plantear un regreso a la obra de Sigmund Freud prestando atención a la capacidad performativa y de fundación de sentido de su práctica analítica. Defiendo que el psicoanálisis es un obrar antihermenéutico, antes creador que interpretativo, que considera a los elementos bajo análisis no como objetos por descifrar sino como ocasiones para incidir cambios sustanciales en la condición del sujeto analizado. Conforme a este presupuesto, pretendo exponer una suerte de teoría estética que permita entender que el alcance revolucionario del psicoanálisis no se limita a señalar la condición vulnerable de la textura identitaria del sujeto, así como de los órdenes de valor culturales que lo acogen, minados por una presión desde abajo (el peso de la infancia, del deseo, del cuerpo orgánico). Defiendo que el poder del psicoanálisis es el de asumir esa vulnerabilidad constitutiva como condición para instaurar deseo, inaugurar historia y forjar identidad. No se trata de denotar la condición caída, sino de colocarla como el principio fundante de una subjetividad nueva...
The purpose of this thesis is to return to the works of Sigmund Freud, paying attention to his analytical practice in its performative value as well as its capacity for the establishment of meaning. I defend that psychoanalysis is an anti hermeneutic act, which rather creates than interprets, for it considers the elements under analysis not as objects to be deciphered but as occasions to influence substantial changes in the condition of the analyzed. According to this assumption, I intend to elaborate a sort of aesthetic theory that will allow us to understand how the revolutionary scope of psychoanalysis is not limited to pointing out the vulnerable condition in the identitary texture of the subject, or in the cultural orders that host him, undermined by a pressure from below (the weight of childhood, of desire, of the organic body). I defend that the power of psychoanalysis is to assume such constitutive vulnerability as a condition to establish desire, inaugurate history and forge identity. It is not about denoting the fallen condition, but placing it as the founding principle for a new subjectivity...
Description
Tesis inédita de la Universidad Complutense de Madrid, Facultad de Filosofía, leída el 29-11-2019
Collections