Publication:
La veterinaria en femenino: pioneras en España y evolución profesional en la Comunidad de Madrid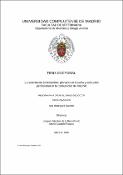 Authors
Advisors (or tutors)
Editors
Publisher
Universidad Complutense de Madrid
Abstract
Se considera que la historia de la veterinaria, como profesión o actividad organizada, tiene su inicio no a partir de 1793 con la apertura de Real Colegio Escuela de Veterinaria de Madrid, sino que se remonta a la regularización oficial de un arte liberal de la albeitería en el año 1500, con la creación del Tribunal del Protoalbeiterato. A partir de ese momento y distribuidos por toda España, trabajan los albéitares como herradores y sanadores de animales, dentro de los conocimientos que se tenía entonces. Durante tres siglos, hombres muy diversos ejercieron primero el arte de la albeitería y después la profesión de la veterinaria y convivieron durante 50 años de manera oficial. Sin embargo, la veterinaria en femenino se estrena tímidamente en 1925 y ha evolucionado durante todos estos años para encontrarse en 2015 en una situación de superioridad numérica pero desigualdad según el ámbito profesional, el nivel de responsabilidad y el nivel de remuneración...
We can consider the history of veterinary medicine in Spain as that, not just beginning in 1793, with the opening of the Royal School College of Veterinary Medicine of Madrid, but the one that starts with the official regulation of the free art of albeytary in 1500 with the foundation of the Protoalbeytary Tribunal. From then on and distributed along the whole country, albeytars displayed their practice as animal healers and farriers, taking into account the knowledge of those times. During three centuries, diverse men practiced first albeytary art and later on veterinary medicine profession. Both coexisted during at least 50 years. Nevertheless, veterinary in feminine is initiated with a feeble attempt in 1925 and has evolved along these years to converge in 2015 in a numerical superiority but disadvantage depending on the professional field and income...
Description
Tesis inédita de la Universidad Complutense de Madrid, Facultad de Veterinaria, Departamento de Medicina y Cirugía Animal, leída el 18-01-2016
Collections