Publication:
Las comunidades energéticas en Grecia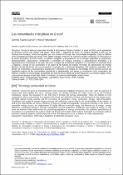 Advisors (or tutors)
Editors
Publisher
Facultad de Ciencias Económicas y Empresariales. Escuela de Estudios Cooperativos
Abstract
Grecia ha dado un importante impulso a la Economía Social y Solidaria a partir de 2011 con la aprobación de diversas normas que regulan este sector. Entre otras, y siguiendo de cerca los trabajos llevados a cabo por las instituciones europeas, Grecia ha regulado por vez primera en Europa, las comunidades energéticas. Estas se definen como cooperativas civiles que tienen como objeto exclusivo promover la economía social y solidaria y la innovación en el sector energético; la lucha contra la pobreza energética y la promoción de la energía sostenible, la producción, almacenamiento, autoconsumo, distribución y suministro de energía; aumentar la autosuficiencia energética y la seguridad en los municipios de las islas; así como la mejora de la eficiente energética en el uso final, en el ámbito local y regional, a través de sus actividades en el sector de las fuentes de energía renovable, la cogeneración de energía eléctrica de alta eficiencia, del uso racional de la energía, de la eficiencia energética, del transporte sostenible, de la gestión de la demanda y la producción, distribución y suministro de energía. En este trabajo hemos querido conocer esa regulación pionera de las comunidades energéticas, la problemática que genera su concepción como cooperativa, los diversos modelos de comunidades energéticas que podrían desarrollarse de conformidad con su exclusivo objeto social, y las experiencias que se han dado hasta el momento, así como sus principales características.
Greece has given an important boost to the Social and Solidarity Economy since 2011 with the approval of various laws that regulate this sector. Among others, and closely following the work carried out by the European institutions, Greece has regulated for the first time in Europe, the energy communities. These are defined as civil cooperatives whose sole purpose is to promote the social and solidarity economy and innovation in the energy sector; the fight against energy poverty and the promotion of sustainable energy, production, storage, self-consumption, distribution and supply of energy; increase energy self-sufficiency and security in the municipalities of the islands; as well as the improvement of energy efficiency in end use, locally and regionally, through its activities in the sector of renewable energy sources, the cogeneration of highly efficient electrical energy, the rational use of energy , energy efficiency, sustainable transport, demand management and the production, distribution and supply of energy. In this work we wanted to learn about know this pioneering regulation of energy communities, the problems generated by its conception as a cooperative, the various models of energy communities that could be developed in accordance with its exclusive corporate purpose, and the experiences that have been given so far, as well as its main characteristics.
Citation
Avarlis, D. (2018) Cooperativa energética de Karditsa: un proyecto que ha sido adoptado por la sociedad. Recuperado de https://www.energia.gr/article/124894/energeiakh-synetairistikh-etaireia-karditsas-ena-egheirhma-poy-ehei-agkaliastei-apo-thn-koinonia. Autoridad Estadística Griega. (s.f.) Recuperado de https://www.statistics.gr/el/home. Douvitsa, I. (2018) The new law on energy communities in Greece. Cooperativismo e Economía Social, Nº 40, pp. 31-58. DOI: https://doi.org/10.35869/ces.v0i40.1385. Drosou, O. (Ed.) (2019) Construyendo comunidades energéticas en Grecia. DOI: 978-618-81299-9-3. Fajardo, G. (2019) New perspectives for the cooperativism of renewable energies: Legal recognition and promotion. International Journal of Cooperative Law Issue, II, pp. 111-126. Recuperado de www.iuscooperativum.org. Fajardo, G., & Frantzeskaki, M. (2018) Las comunidades energéticas en Grecia. Marco legal y compatibilidad con los fines y principios cooperativos. Comunicación presentada en el XVII Congreso Internacional de Investigadores en Economía Social. La Economía Social: Transformaciones Recientes, Tendencias y Retos de Futuro, Toledo. Fajardo, G., & Frantzeskaki, M. (2017) La economía social y solidaria en Grecia. Marco jurídico, entidades y principales características. REVESCO. Revista de Estudios Cooperativos, Tercer Cuatrimestre, Nº 125, pp. 49-88. DOI:10.5209/REVE.58135. Fajardo, G. & Talaverano, J. (2020) Prosumidores de energía renovable. Marco legal y buenas prácticas, en El potencial de los Prosumidores de energía renovable en la transición energética de la Ciudad de Valencia. Publicaciones UPV (en prensa). Kaminari, O. & Papageorgiou, K. (2016) Los conceptos de excedentes, beneficios e ingreso neto en cooperativas. Recuperado de http://isem-journal.blogspot.com/2016/04/blog-post_72.html. Kataskevesktirion.gr. (2018) Un plan progresivo para la autonomía energética al 100% de Sifnos [presentación del modelo de proyecto + video]. http://kataskevesktirion.gr/%CE%AD%CE%BD%CE%B1-%CF%80%CF%81%CE%BF%CE%BF%CE%B4%CE%B5%CF%85%CF%84%CE%B9%CE%BA%CF%8C-%CF%83%CF%87%CE%AD%CE%B4%CE%B9%CE%BF-%CE%B3%CE%B9%CE%B1-%CF%84%CE%B7%CE%BD-100-%CE%B5%CE%BD%CE%B5%CF%81%CE%B3/. Minoan Energy Community. Recuperado el Mayo 23, 2020 de https://minoanenergy.com/. Papazafeiropoulos, C. (2019) Comunidades energéticas: marco jurídico y estudio de implementación en Mesta, Chios (Tesis, Universidad el Egeo). Disponible en Repositorio Institucional HELLANICUS https://hellanicus.lib.aegean.gr/handle/11610/19364. RESCoop (2020) Energy Communities under the Clean Energy Package. Transposition Guidance. Recuperado de https://uploads.strikinglycdn.com/files/48701cfd-f397-4903-9d36-1fba162223f4/Energy%20Communities%20Transposition%20Guidance.pdf. Servicio especial de gestión del Plan Empresarial Competitividad Emprendimiento Innovación (2020) Pre-publicación sobre la Invitación del Programa "Mejoramiento del establecimiento y funcionamiento de comunidades energéticas". Recuperado de http://www.antagonistikotita.gr/epanek/news.asp?id=750.
Collections