Publication:
ZnO-mesoporous glass scaffolds loaded with osteostatin and mesenchymal cells improve bone healing in a rabbit bone defect.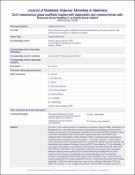 Authors
Salinas Sánchez, Antonio J.
Advisors (or tutors)
Editors
Abstract
The use of 3D scaffolds based on mesoporous bioactive glasses (MBG) enhanced with therapeutic ions, biomolecules and cells is emerging as a strategy to improve bone healing. In this paper, the osteogenic capability of ZnO-enriched MBG scaffolds loaded or not with osteostatin (OST) and human mesenchymal stem cells (MSC) was evaluated after implantation in New Zealand rabbits. Cylindrical meso-macroporous scaffolds with composition (mol %) 82.2SiO2–10.3CaO–3.3P2O5–4.2ZnO (4ZN) were obtained by rapid prototyping and then, coated with gelatin for easy handling and potentiating the release of inorganic ions and OST. Bone defects (7.5 mm diameter, 12 mm depth) were drilled in the distal femoral epiphysis and filled with 4ZN, 4ZN+MSC, 4ZN+OST or 4ZN+MSC+OST materials to evaluate and compare their osteogenic features. Rabbits were sacrificed at 3 months extracting the distal third of bone specimens for necropsy, histological and microtomography (µCT) evaluations. Systems investigated exhibited bone regeneration capability. Thus, trabecular bone volume density (BV/TV) values obtained from µCT showed that the good bone healing capability of 4ZN was significantly improved by the scaffolds coated with OST and MSC. Our findings in vivo suggest the interest of these MBG complete systems to improve bone repair in the clinical practice.
Description
RESEARCHER ID B-5081-2017 (Daniel Lozano Borregón) ORCID 0000-0001-5902-9201 (Daniel Lozano Borregón) RESEARCHER ID N-4501-2014 (Sandra Sánchez Salcedo) ORCID 0000-0002-1889-2057 (Sandra Sánchez Salcedo) RESEARCHER ID G-9445-2017 (Juan Carlos Doadrio Villarejo)) ORCID 0000-0001-7912-5663 (Juan Carlos Doadrio Villarejo) RESEARCHER ID M-3316-2014 (Antonio Salinas Sánchez) ORCID 0000-0002-8408-3389 (Antonio Salinas Sánchez) RESEARCHER ID M-3378-2014 (María Vallet Regí) ORCID 0000-0002-6104-4889 (María Vallet Regí)
Collections