Publication:
Update on Corneal Confocal Microscopy Imaging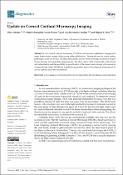 Authors
Alberquilla García-Velasco, Marta
Teus Guezala, Miguel Ángel
Advisors (or tutors)
Editors
Abstract
In vivo corneal confocal microscopy (IVCM) is a non-invasive ophthalmic imaging technique that provides images of the cornea at the cellular level. Despite the uses in ocular surface pathologies, in the last decades IVCM has been used to provide more knowledge in refractive surgery wound healing, in neuropathies diagnosis, etc. The observation of the corneal cells, both normal and inflammatory, and the possibility of quantification of the corneal nerve density with manual or automated tools, makes IVCM have a significant potential to improve the diagnosis and prognosis in several systemic and corneal conditions.
Description
Received: 14 November 2022 / Revised: 18 December 2022 / Accepted: 21 December 2022 / Published: 23 December 2022 (This article belongs to the Special Issue Medical Optical Imaging: Current Diagnostics, Therapeutic and Surgical Applications in Ophthalmology—Volume 2)
Collections