Publication:
Capitalismo y desaparición del mundo. Un diálogo (abierto) con Hannah Arendt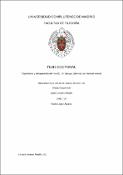 Files
Authors
Advisors (or tutors)
Editors
Publisher
Universidad Complutense de Madrid
Abstract
Son dos los objetivos principales de esta tesis. Primero, comprender las condiciones que han llevado al hastío, al desinterés y al abandono del espacio político por parte de la ciudadanía. Y segundo, que el mundo haya devenido un espacio flexible, inestable, móvil e incierto. El auge del individualismo y la exaltación de la vida privada, el haber hecho de la actividad de la labor la actividad humana por excelencia y la actitud hiperconsumista que caracteriza nuestras sociedades occidentales, todo ello al abrigo de políticas basadas en la representación, han hecho que se mantenga en la actualidad el fenómeno que Hannah Arendt identificó en su obra como la desaparición del mundo. La hipótesis fundamental que articula este estudio es que el elemento clave que puso en marcha tales condiciones a partir de la modernidad y que ha llevado en la actualidad al debilitamiento del tejido de lo político, así como al socavamiento de la estabilidad y la objetividad de las cosas, es la organización social y económica capitalista...
This thesis addresses two main objectives, namely to understand the conditions that have led to weariness, disinterest and desertion of the political space by citizens, as well as the fact that the world has become a flexible, unstable, mobile and uncertain space. The rise of individualism and the exaltation of private life, the triumph of labor as the principal human activity and finally, the hyper-consumerism attitude that characterizes western societies, all accompanied by representative policies, have resulted on the present time in the maintenance of the phenomenon that Hannah Arendt identified in her works as Worldlessness. The principal hypothesis in this study states that the key element promoting these conditions since modernity until present times that weaken the political space as well as undermine the stability and objectivity of things are the social and economic organization of capitalism...
Description
Tesis inédita de la Universidad Complutense de Madrid, Facultad de Filosofía, leída el 22/01/2021
Collections