Publication:
Estudio del efecto protector de la melatonina en el cristalino, análisis de su acción hipotensora y modulación de su secreción usando un filtro amarillo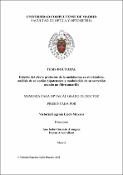 Files
Editors
Publisher
Universidad Complutense de Madrid
Abstract
El cristalino es una lente biconvexa, avascular y transparente situada en el polo anterior del ojo por detrás del iris. Su función principal es enfocar la luz a la retina. La opacificación o pérdida de transparencia del cristalino genera cataratas, la principal causa de ceguera reversible en el mundo, siendo el estrés oxidativo un mecanismo patológico clave en su desarrollo. La melatonina es una neurohormona secretada principalmente por la glándula pineal, también es producida a nivel ocular en estructuras como el cuerpo ciliar, la retina y el cristalino. La síntesis y liberación de melatonina sigue un ritmo circadiano, siendo suprimida su liberación mediante la luz por la activación del fotopigmento melanopsina. Recientes estudios han evidenciado la presencia de este fotopigmento en el cristalino y como su activación mediante luz azul disminuye la expresión de enzimas biosintéticas de la melatonina así como su producción, sugiriendo que la modificación de la luz, por ejemplo mediante el uso de filtros, podría regular la liberación de melatonina ocular. La melatonina actúa como agente antioxidante, adquiriendo así un potencial anticataratogénico. Se desconoce si los niveles de melatonina ocular presentan alguna alteración en la patología de cataratas, repercutiendo en la progresión de la enfermedad...
The lens is an avascular and transparent structure located in the anterior pole of the eyeball behind the iris. Its main function is to focus light on the retina. The opacification or loss of transparency of the lens generates cataracts, which are the main cause of reversible blindness in the world. Oxidative stress is a key pathological mechanism in cataract progress.Melatonin is a neurohormone mainly secreted by the pineal gland and also produced at eye structures such as the ciliary body, the retina and the lens. The synthesis and release of melatonin follows a circadian rhythm. Melatonin release is suppressed by the activation of the photopigment melanopsin by light. Recent studies have shown the presence of melanopsin in the lens and how its activation by blue light exposure decreases the expression of enzymes involved in melatonin biosynthesis as well as neurohormone production, suggesting that light modulation, for example with filters, could regulate melatonin in the eye. Among the functions of melatonin in the eye highlights its possible role as an antioxidant agent. Taking into account the relationship of cataracts with oxidative stress, the anticataratogenic potential of melatonin has been suggested. It is unknown whether ocular melatonin levels are altered in cataracts, which could affect the disease progression...
Description
Tesis inédita de la Universidad Complutense de Madrid, Facultad de Óptica y Optometría, leída el 21-04-2022
Collections