Publication:
Metodologías radicales para la comprensión de las artes visuales en primaria y secundaria en contextos museísticos en Madrid capital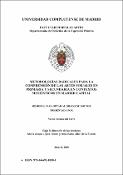 Files
Authors
Advisors (or tutors)
Editors
Publisher
Universidad Complutense de Madrid, Servicio de Publicaciones
Abstract
Las líneas de investigación del MUPAI (Museo Pedagógico de Arte Infantil) llevan, en el año 2003, a la necesidad de formular teóricamente la metodología empleada en sus actividades destinadas a niños y adolescentes con el fin de facilitarles la comprensión de las artes plásticas. Como base para poder hacer esta formulación teórica, se realiza un repaso por las tendencias educativas aplicadas a la educación artística y a las actividades educativas desarrolladas en los museos de la cuidad de Madrid en busca de modelos. El contacto con los museos madrileños sirve para ser conscientes de la inexistencia de metodologías formuladas como tales en este ámbito, y de la necesidad de la aplicación de las denominadas metodologías radicales para romper con una enseñanza que imita las formas de trabajo de la escuela sin tener en cuenta las diferencias entre esta y el contexto museístico. Partiendo de esta realidad y del trabajo de campo realizado durante tres años de diseño, implementación y evaluación de actividades educativas desarrolladas por el MUPAI, tanto dentro de sus instalaciones como en otros espacios como La Casa Encendida, Fundación ICO o Fundación Telefónica, se formula teoricamente el Método MUPAI, especificando sus características respondiendo a las preguntas ¿para qué enseñar?, ¿qué enseñar?, ¿cómo enseñar?, ¿dónde enseñar?, ¿a quién enseñar?, y ¿quién enseña?. Finalmente, se proponen una serie de recomendaciones para la puesta en marcha de actividades educativas que tengan como objetivo, además de enseñar arte, hacerlo de forma efectiva y coherente con el contexto en el que se realice; exponiendo ejemplos de la aplicación de esta metodología en otros ámbitos como el hospitalario dentro del Proyecto Curarte. [ABSTRACT]The lines of research of MUPAI (Pedagogical Museum of Children's Art)made, in 2003, the need to develop theoretically the methodology used in their activities aimed at children and adolescents in order to facilitate understanding of the visual arts. As a basis for making this theoretical formulation, a review is conducted by educational trends applied to arts education and educational activities developed in the museums of the city of Madrid in search of models. Contact with the museums of Madrid serves to be aware of the lack of methodologies in this area, and the necessity of applying the called radical methodologies for break with an education that mimics the forms of school into work without thinking about the differences between the museums and this context. Proceeding from this reality and the fieldwork carried out during three years of design, implementation and evaluation of educational activities carried out by the MUPAI, both within their facilities as in other places such as La Casa Encendida, Fundación ICO or Fundacion Telefonica, is formulated theoretically Method MUPAI specifying their characteristics responding to questions why teach?, what to teach?, how to teach?, where teach?, who teach?, and who teaches?. Finally, we propose a series of recommendations for the implementation of educational activities aimed at, in addition to teaching art, doing so in an effective and consistent with the context in which it is carried out, giving examples of applying this methodology in other areas such as hospital within Project Curarte.
Description
Tesis de la Universidad Complutense de Madrid, Facultad de Bellas Artes, Departamento de Didáctica de la Expresión Plástica, leída el 24-06-2008
Collections