Publication:
Modelos experimentales para el estudio de las acciones hipotalámicas y extra-hipotalámicas de la leptina neonatal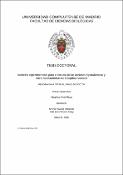 Authors
Advisors (or tutors)
Editors
Publisher
Universidad Complutense de Madrid
Abstract
En los últimos años, nuestro grupo de investigación ha caracterizado un modelo de estrés neonatal, concretamente un modelo de separación materna (SM) en ratas Wistar durante 24h en el día postnatal (DPN) 9. En el estudio de efectos a corto, medio y largo plazo de la SM, hemos encontrado modificaciones psiconeuroinmunoendocrinas que se manifiestan tanto en la adolescencia como en la edad adulta y en muchos casos de manera sexo-dimórfica. En concreto, hemos mostrado como dicho modelo de estrés neonatal induce diversas alteraciones comportamentales que afectan a la memoria y respuestas emocionales que iban acompañadas de alteraciones a nivel cerebral, tanto en hipocampo como en corteza frontal. Además, los animales SM muestran alteraciones a nivel metabólico y endocrino tales como una afectación en la ganancia de peso que se extiende hasta bien entrada la edad adolescente y modificaciones en diversas hormonas como la leptina, la testosterona y la adiponectina. No sólo encontramos alteraciones cerebrales en adolescencia y edad adulta, sino ya a los 13 días de edad, en regiones tanto hipotalámicas como extra-hipotalámicas. Uno de los hallazgos que más nos llamó la atención fue que los niveles de leptina se hayan drásticamente reducidos durante el período de separación materna, DPN 9-10, una reducción aún observable a DPN13. Recientemente se ha descrito la existencia de un periodo crítico (DPN5 a DPN10) en roedores, durante el cual se da una elevación fisiológica de leptina, con un pico a DPN9, que tiene una función neurotrófica sobre el hipotálamo en desarrollo...
During the last years, we have characterized a model of maternal deprivation (MD) during 24 h at postnatal day (PND) 9 in Wistar rats. We have found short and long term psychoneuroimmunoendocrine effects and described numerous sexual dimorphisms. Maternally deprived animals show modifications in memory and emotional responses in adolescence and adulthood, and neural alterations in both hypothalamic and extrahypothalamic brain areas, including the hippocampus (HC) and frontal cortex (FC), which become evident as early as PND 13. Moreover, MD animals show metabolic and endocrine alterations such as changes in body weight gain that extend until adolescence or early adulthood, as well as altered circulating levels of leptin, testosterone and adiponectin. One of the most interesting findings was the markedly reduced levels of leptin not only during the MD period, but also at PND 13. A leptin surge has been described during a critical neonatal period (PND5-10) in rodents, with a peak around PND9, which plays a neurotrophic role in the hypothalamic development. As indicated above, it is precisely at PND 9 when the MD protocol is performed. On the basis of these findings, we propose that MD at PND9-10, by drastically reducing leptin levels, interferes with its neurotrophic effects, and that the reduction of leptin signaling during this critical developmental period may be at least in part responsible for the neural and behavioral alterations found in MD animals. Leptin receptors are expressed not only in the hypothalamus, but also in others brain regions such as hippocampus and frontal cortex. Therefore, we also proposed that the neonatal leptin surge could have an important role in the development of these extra-hypothalamic areas...
Description
Tesis inédita de la Universidad Complutense de Madrid, Facultad de Ciencias Biológicas, leída el 23-10-2015
Collections