Publication:
El cinismo de Michel Foucault: la verdad encarnada y sus gesticulaciones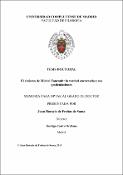 Files
Advisors (or tutors)
Editors
Publisher
Universidad Complutense de Madrid
Abstract
En la presente investigación procuramos dar cuenta del lugar que tienen las nociones de cinismo y filosofía cínica en el itinerario intelectual de Michel Foucault, y dilucidar las novedades que éste ofrece respecto a los estudios más tradicionales en torno a ellas. Para esto, reelaboramos el marco teórico específico en el que el filósofo francés circunscribe su análisis exclusivamente dedicado a dichas nociones, en el cual son fundamentales los conceptos de cuidado de sí (epiméleia heautou), estética de la existencia y parrhesía (franqueza). No conformándonos con esta etapa particular del quehacer filosófico de Foucault, emprendemos también un rastreo exhaustivo en el interior de su obra en el que nos proponemos no solo descubrir la primera ocasión en la que asoma una inquietud por el cinismo, sino además dar con todos los momentos en los que considera pertinente referirlo...
This dissertation attempts to give an account of the place that the notions of cynicism and cynic philosophy have in Michel Foucault's intellectual itinerary, and throw some light on the novelties that he offers compared to the most traditional studies related to them. To proceed, we will re-elaborate the specific theoretical framework in which the French philosopher circumscribes his analysis exclusively dedicated to the aforementioned notions where the concepts of care of the self (epiméleia heautou), aesthetics of existence and parrhesía (free speech) are fundamental. Not being satisfied with this concrete phase of Foucault's philosophical repertoire, an exhaustive tracking through the interior of his oeuvre will be undertaken, in which it is planned not merely to detect the first time a concern for cynicism is perceptible, but also to encounter every occasion where the philosopher finds it pertinent to be mentioned...
Description
Tesis inédita de la Universidad Complutense de Madrid. Facultad de Filosofía, leída el 28-11-2019
Collections