Publication:
Suitability Assessment of X-Band Satellite SAR Data for Geotechnical Monitoring of Site Scale Slow Moving Landslides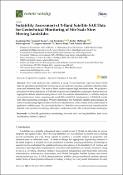 Advisors (or tutors)
Editors
Abstract
This work addresses the suitability of using X-band Synthetic Aperture Radar (SAR) data for operational geotechnical monitoring of site scale slow moving landslides, affecting urban areas and infrastructures. The scale of these studies requires high resolution data. We propose a procedure for the practical use of SAR data in geotechnical landslides campaigns, that includes an appropriate dataset selection taking into account the scenario characteristics, a visibility analysis, and considerations when comparing advanced differential SAR interferometry (A-DInSAR) results with other monitoring techniques. We have determined that Sentinel-2 satellite optical images are suited for performing high resolution land cover classifications, which results in the achievement of qualitative visibility maps. We also concluded that A-DInSAR is a very powerful and versatile tool for detailed scale landslide monitoring, although in combination with other instrumentation techniques.
Collections