Publication:
Morphology, Luminescence, and Optical Properties of Tb‐ and Li‐Codoped ZnO Elongated Nano‐ and Microstructures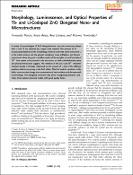 Advisors (or tutors)
Editors
Abstract
A variety of morphologies of ZnO elongated nano- and microstructures doped with Li and Tb are obtained by a vapor–solid method. The amount of Tb incorporated depends on the morphology which is controlled by the amount of Li in the initial mixture and the growth conditions. X-ray diffraction and Raman experiments show the good crystalline quality of the samples. A small quantity of Tb3+ ions seems to be present in the structures, as both cathodoluminescence and photoluminescence suggest. The intensity of the ZnO and Tb3+ intrashell emission bands is strongly influenced by the amount of Li due to the different positions that it can occupy in the ZnO lattice. This fact leads to variations in the defect structure that change the concentration of native defects and the rare earth surroundings. The elongated structures also show waveguiding behavior and Fabry–Perot optical resonant modes with good quality factor.
Description
CRUE-CSIC (Acuerdos Transformativos 2022) "This work was founded by the Complutense University of Madrid- Banco Santander via project UCM-Santander 2019 (PR87/19-22613) and Complutense University—Comunidad de Madrid via project PR65/19-22464 and the Spanish Ministry of Science, Innovation and Universities via project MINECO/FEDER-MAT2015-65274-R."
Collections