Publication:
El granito como piedra de construcción en Madrid: durabilidad y puesta en valor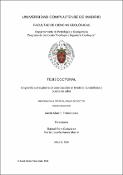 Authors
Advisors (or tutors)
Editors
Publisher
Universidad Complutense de Madrid
Abstract
La tesis titulada "El granito como piedra de construcción en Madrid: durabilidad y puesta en valor" está estructurada en 6 artículos científicos publicados, 1 aceptado y otro en revisión, en diferentes revistas internacionales indexadas y un capítulo de un libro divulgativo. El uso de la piedra de construcción ha estado determinado por la proximidad de los recursos geológicos. Los materiales pétreos que históricamente se han utilizado en la Comunidad de Madrid provienen del Sistema Central Español y de la cuenca terciaria de Madrid. El sílex ha sido utilizado desde el siglo IX hasta el XI, cuando fue paulatinamente sustituido por la dolomía de Redueña y el granito, llamado tradicionalmente "piedra berroqueña" (Fort et al., 2013a, b). Los avances tecnológicos del siglo XVIII favorecieron la cantería subterránea de la caliza de Colmenar de Oreja. Sin embargo, la piedra berroqueña extraída a cielo abierto ha proporcionado la mayoría de la piedra de construcción utilizada en Madrid. La piedra berroqueña ha representado durante siglos la principal actividad económica en muchos pueblos de la Sierra de Guadarrama (Freire-Lista y Fort, 2015a, b). Estas sierras forman parte del Sistema Central Español. Se extienden en dirección suroeste-noreste a través de las provincias de Madrid, Segovia y Ávila. Ocupa un área aproximada de 100 km de largo por 40 km de ancho en donde existen diversas variedades de granito. Esta piedra ha dado origen a un elevado número de construcciones que suponen un importante pilar en el turismo histórico, cultural y rural del que disfruta actualmente la Comunidad de Madrid...
The thesis entitled "The granite stone used for construction in Madrid: durability and value" is divided into 10 scientific articles published or under review in various international indexed journals and a chapter of an informative book about the building materials used in the Letras district of Madrid. The first objective is to establish the history of use, quality and durability of four granites from the Sierra de Madrid which are widely used in heritage buildings. The second objective is to assign a grade or value to them according to their use. The use of stone construction has been determined by the proximity of geological resources. The stone materials that have been used historically in the City of Madrid originated in the Spanish Central System and the Tertiary Basin of Madrid. Flint has been used from the 9th to the 11th centuries, when it was gradually replaced by Redueña dolomite and granite, traditionally called "Piedra Berroqueña" (Fort et al., 2013a,b). The technological advances of the 18th century favoured the underground limestone quarry of Colmenar de Oreja. However, the piedra berroqueña extraction has provided most of the building stone used in Madrid. For centuries the extraction of piedra berroqueña has represented the main economic activity in many villages of the Guadarrama Mountains and Somosierra (Freire-Lista and Fort, 2015a, b). These mountains are part of the Spanish Central System. They range in a southwest-to-northeast direction through the provinces of Madrid, Segovia and Avila. Occupying an area of approximately 100 km in length and 40 km wide, several varieties of granite are present. This stone has been incorporated into a large number of buildings that are key to the historical, cultural and rural tourism currently enjoyed in Madrid...
Description
Tesis inédita presentada en la Universidad Complutense de Madrid, Facultad de Ciencias Geológicas, Departamento de Petrología y Geoquímica, leída el 05-02-2016
Collections