Publication:
Sistema de calificación de temperatura de un microcontrolador para su operación en la superficie de Marte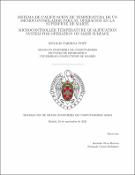 Authors
Advisors (or tutors)
Editors
Abstract
En las fases iniciales de la misión espacial MarsConnect se quiere verificar que el microcontrolador que se pretende usar como ordenador de a bordo de la carga útil es capaz de soportar las condiciones de temperatura a las que se verá sometido en la superficie de Marte. Para lograrlo en este trabajo se ha creado un sistema para la realización de pruebas funcionales en el interior de una cámara climática, en la que se hacen ciclados térmicos con nitrógeno líquido y calentadores. El sistema está compuesto por una placa de circuito impreso diseñada para aguantar el frío en la que se suelda el microcontrolador, y una Raspberry Pi, que hacen de esclavo y maestro respectivamente. Cada una ejecuta un programa escrito en el lenguaje de programación C que controla y hace los test de los componentes del microcontrolador. Los resultados se guardan en el sistema de ficheros, y son leídos por un servidor web desarrollado en Python que los muestra en el navegador. Se ha realizado una demo del funcionamiento del sistema para un test concreto.
The initial stages of the MarsConnect mission include verifying that the microcontroller that's going to be used as the on board computer of the scientific payload is capable of withstanding the temperature conditions on Mars surface. In order to achieve that a system has been created to perform functional tests inside a climatic chamber, where thermal cycles using liquid nitrogen and heaters will take place. The system is composed of a cold resistant printed circuit board where the microcontroller is soldered on and a Raspberry Pi, which act as slave and master respectively. Both of them execute a program written in the C language which control and perform the microcontroller components tests. Generated results are stored in a file which is read by a web server developed in Python, and makes them available in the browser. A demonstration of the operation of the system has been carried out for a specific test.
Description
Trabajo de Fin de Grado en Ingeniería De Computadores, Facultad de Informática UCM, Departamento de Arquitectura de Computadores y Automática, Curso 2021/2022.