Publication:
Tomar tierra, echar raíces. Prácticas artísticas colaborativas para la formación de comunidad.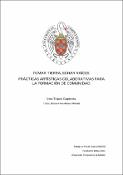 Authors
Advisors (or tutors)
Editors
Abstract
En este proyecto se pretende llevar a cabo un estudio teórico que englobe una revisión histórica acerca de lo que ha podido significar "formar comunidad", y lo que puede significar en la actualidad. Se pretende también estudiar cómo la dinámica urbana, o de la metrópoli, dificulta la formación de comunidad a la que se aspira, comentando formas que sí son viables y abogando en este caso por la práctica artística colaborativa. Se presentarán diferentes formas de comunidad (tanto a lo largo de la historia como en la actualidad), se plantearán prácticas comunitarias generadas desde el arte (que permitirá entender cómo el arte es un buen medio para afrontar esta temática), y se hablará de por qué ésta dinámica se conforma como un nuevo sistema contrario al de la metrópoli. Al investigar desde el arte, se planteará, como proyecto artístico, la acción colectiva de formación de un bosque comestible "Tomar tierra, echar raíces"; introduciendo en el discurso la idea de bosque como comunidad, y de árbol como individuo pleno.
The aim of this project is to carry out a theoretical study that includes a historical review about what "building community" could have meant, and what it can mean today. It is also intended to study how urban dynamics, or those of the metropolis, hinder the formation of the community to which we aspire, commenting on ways that are viable and advocating collaborative artistic practice in this case. Different forms of community will be presented (both throughout history and today), community practices generated from art will be proposed (which will allow us to understand how art is a good means to address this issue), and will also talk about the reason why this dynamic is conformed as a new system contrary to the metropolis. As we are investigating from art, the collective action of formation of a forest garden will be presented as the artistic project "To take land, to enroot"; introducing in the discourse the ideas of ​​forest as a community, and tree as a full individual.