Publication:
Definición de biomarcadores discriminatorios de fenotipos clínicos en enfermedades respiratorias complejas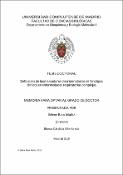 Files
Authors
Advisors (or tutors)
Editors
Publisher
Universidad Complutense de Madrid
Abstract
El asma y la alergia son enfermedades respiratorias crónicas que poseen un amplio espectro clínico, resultado de múltiples interacciones entre factores génicos y medioambientales. La atopia y los mecanismos alérgicos se ha demostrado que están implicados en un 50-80 % de los casos asmáticos, y en aproximadamente un 50 % de los pacientes con asma grave.Los mecanismos del asma son complejos y se caracterizan por la inflamación de las vías respiratorias basados en citocinas. La activación de células T cooperadoras de tipo 2 (Th2)específicas de alérgeno y de células linfoides innatas de tipo 2 (ILC2) son las responsables de la inflamación eosinofílica. Estas respuestas de la inflamación de las vías respiratorias provocada por células Th2 e ILC2 constituyen las vías principales de la enfermedad en los pacientes con asma Th2-alta. Sin embargo, otras células importantes, las células Th17, originan el reclutamiento de neutrófilos. Esta vía podría ser la más relevante en pacientes con asma Th2-baja...
Asthma and allergy are complex chronic respiratory diseases that include a wide clinical spectrum, which is a result from multiple interactions between genetic and environmental factors. Atopy and allergic mechanisms have been demonstrated to be implicated in 50-80 % of the asthmatic cases, and in approximately a 50 % of patients with severe asthma.The mechanistic drivers of asthma are complex and are characterized by cytokine-based airway inflammation. The activation of allergen-specific T helper 2 (Th2) cells and of innatelymphocytes cells 2 (ILC2) are responsible for the eosinophilic inflammation. Airway inflammation driven by Th2 cells and ILC2 cells constitute the main pathways in patients withTh2-high asthma. However, other important T lymphocytes, the Th17 cells, cause neutrophil recruitment. This pathway could be the most relevant in patients with Th2-low asthma...
Description
Tesis de la Universidad Complutense de Madrid, Facultad de Ciencias Biológicas, Departamento de Bioquímica y Biología Molecular I, leída el 22-10-2018
Collections