Publication:
Anoplocefalosis equinas: valoración de la especificidad de los métodos diagnósticos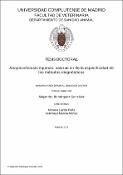 Files
Authors
Advisors (or tutors)
Editors
Publisher
Universidad Complutense de Madrid
Abstract
Las diferencias en patogenicidad y epidemiológicas entre las infecciones por Anoplocephala perfoliata y A. magna justifican la necesidad de diagnósticos diferenciales en países como España, donde la parasitación por A. magna en infección pura o mixta con A. perfoliata está demostrada. Para evaluar la fiabilidad del diagnóstico coprológico en la detección de A. perfoliata en áreas donde coexiste la infección por A. magna, se analizó la sensibilidad del diagnóstico coprológico para cada una de las especies en caballos identificados por necropsia como positivos a Anoplocephala spp. en infección simple o mixta. Se analizó también la distribución de cada especie en función del sexo y de la edad de los caballos y se evaluó la fiabilidad de dos variables morfométricas (diámetro de la oncosfera y bisectriz mayor de la cubierta) en la diferenciación entre los huevos de ambas Anoplocephala spp. El estudio se llevó a cabo sobre 130 équidos identificados como positivos a la infección por Anoplocephala spp. por inspección visual post-mortem, utilizados como controles positivos. En cuanto a la sensibilidad de la coprología, ésta resultó significativamente más sensible (P < 0,01) en la detección de A. magna que de A. perfoliata, tanto en el análisis global (55% vs 26%) como en el de équidos con cestodos maduros (75% vs 15%) o grávidos (79% vs 20%) y con independencia de la carga parasitaria, puesto que predominaron las intensidades bajas (<30 cestodos) en los équidos que resultaron positivos por coprología a una u otra especie. En relación con la distribución por edades, se detectó un claro predominio de la infección por A. magna en animales jóvenes (≤ 2 años) sobre los adultos (90% vs 10%; P < 0,01)...
Pathogenic and epidemiological differences between infections by Anoplocephala perfoliata and A. magna justify the necessity of differential diagnoses in countries like Spain where A. magna has been demonstrated in single or mixed infection with A. perfoliata. In order to evaluate the reliability and accuracy of the copro-diagnosis in the detection of A. perfoliata in the presence of A. magna, the sensitivity of the copro-diagnosis of A. perfoliata and A. magna was examined in horses identified by necropsy as positive for Anoplocephala spp. as single or double infections. The distribution of each species according to the age and sex of the host was also examined. Finally, the reliability of two morphometric variables (major shell bisector length and oncosphere diameter) for the identification of eggs of both Anoplocephala species was assessed. The study was carried out on 130 equids, classified as positive for Anoplocephala spp. infection by post-mortem visual inspection, used as the reference standard. Coprology was significantly more sensitive (p < 0.01) at detecting A. magna than A. perfoliata. This difference (55% vs 26%) was independent of the parasite burden and was greater when testing was limited to horses with mature (75% vs 15%) or gravid tapeworms (79% vs 20%). Any possible biases due to an immature tapeworm stage were ruled out since low burdens (< 30 cestodes) predominated over moderate (31 – 100 tapeworms) or high burdens in animals returning a positive coprology test. Another finding of this study was the preference shown by A. magna for young (≤ 2 years) horses. Thus, 90% of single infections by A. magna were detected in young animals versus 10% in adult animals. The higher coprological sensitivity detected towards A. magna and the strong preference shown by this species for young animals mean that past epidemiological studies have probably overestimated the prevalence of A. perfoliata in areas where both occur, especially those performed in young horses, given the morphological similarity of Anoplocephala spp. eggs...
Description
Tesis de la Universidad Complutense de Madrid, Facultad de Veterinaria, Departamento de Sanidad Animal, leída el 05/02/2016. Tesis formato europeo (compendio de artículos)
Collections