Publication:
Ultrasonidos focalizados de media intensidad para fisioterapia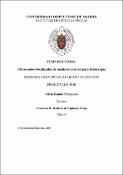 Authors
Advisors (or tutors)
Editors
Publisher
Universidad Complutense de Madrid
Abstract
Los resultados que muestran los beneficios que se obtienen con las terapias con Ultrasonidos (US) en Fisioterapia evidencian la potencialidad de este tipo de radiación para mejorar la rehabilitación y la curación de lesiones de tejido blando. Existe cierta controversia sobre su efectividad basada en encuestas científicas, que induce a pensar que no se han trasladado bien a la clínica los conocimientos obtenidos de tipo físico y biológico sobre la interacción entre los US y los tejidos biológicos. En este sentido, la profundización de la investigación de carácter biofísico dentro de esta área es necesaria. Además, el intervalo de intensidades intermedias entre las que actualmente se consideran no dañinas (y se emplean en rehabilitación) y las que lograr ablacionar o destruir los tejidos por calor (y se emplean en oncología y cirugía), es un rango muy poco investigado. El trabajo realizado se centra en los efectos biofísicos de los US en esta ventana de intensidades, que se denomina MIFU (Middle Intense Focused Ultrasound), en la que se esperan encontrar resultados positivos en el tratamiento de lesiones de tejido blando, al poder combinar los efectos de las otras modalidades...
Exhaustive analyses of therapies with Ultrasound (US) in Physiotherapy prove a potential benefit of this type of radiation in order to enhance rehabilitation and healing of soft tissue injuries. Several scientific reviews show that there exists controversy regarding the effectiveness of this technique, leading to the conclusion that there is not an appropriate and accurate transfer to clinic of the physical and biological knowledge of the interaction effects of US with biological tissues. Comprehensive biophysical research is hence necessary in this direction. Moreover, not much research exists in the literature about intensity thresholds intervals between harmless (and therefore useful for rehabilitation) and ablative (useful in surgery and oncology) intensities. This work focuses on the study of biophysical effects of US with intensities within this threshold interval, denoted as MIFU (Middle Intense Focused Ultrasound), due its potentiality to obtain promising results in the treatment of soft tissue injuries, as it can combine the effects of other modalities...
Description
Tesis inédita de la Universidad Complutense de Madrid, Facultad de Ciencias Físicas, Departamento de Estructura de la Materia, leída el 13-11-2019
Collections