Publication:
Síntesis, caracterización y biotransformación de nanopartículas de selenio: aplicación al desarrollo de envases antioxidantes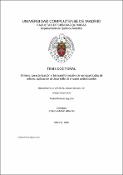 Files
Authors
Advisors (or tutors)
Editors
Publisher
Universidad Complutense de Madrid
Abstract
Selenium (Se) is an essential element for human health. The health-promoting properties of Se are due to vital functions of selenoproteins in which selenium is present as selenocysteine (SeCys). The important role of selenoproteins in human metabolism justifies the adverse consequence of selenium deficiency. There are several parts of the world where selenium content in the diet has been estimated insufficient to reach correct activity of selenoproteins. For all commented above, the production of Se-enriched food and nutritional supplements is getting interest in the last years. Two main approaches have been applied for developing Se-enriched food and feed: 1) Development of Selenium-enriched fermented producst (based on the capability of Lactic bacteria to incorporate and biotransform inorganic selenium into organic Se-compounds which are considered nutritional safer and more bioactive than inorganic Se) and 2) Development of Se-enriched vegetables (based on the capabilliy of some plants to biotransform inorganic selenium into seleno aminoacids). In most of the studies apperared in the literature selenium is supplemented as inorganic selenium. Nanotechnology has been touted as the next revolution in many industries, including food processing and packaging. The applications of nano-based technology in food industry may include nano scale vehicles for delivering nutrients and sensitive bioactives, nanoscale films for food packaging and contact materials, nanoscale systems for controlled releasing of fertilizer and pesticides, safety and biosecurity (e.g. nanosensors), and nanotoxicity. Based on these advances, nanotechnology could be also applied for developing selenium nanoparticles as a vehicle for delivering selenium in living systems and for marketing food packaging with antioxidant properties...
Description
Tesis inédita de la Universidad Complutense de Madrid, Facultad de Ciencias Químicas, Departamento de Química Analítica, leída el 24-09-2015
Collections