Publication:
Deleuze y la filosofía: un mapa del sentido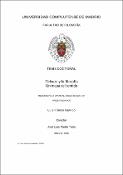 Files
Authors
Advisors (or tutors)
Editors
Publisher
Universidad Complutense de Madrid
Abstract
Nuestra tesis lleva por título el nombre de un autor y una disciplina. De modo que esconde, bajo su forma abreviada y sintética, la pregunta: ¿hasta qué punto puede llegar a condicionar un nombre propio una ciencia o una rama del saber en este maltrecho y prematuramente viejo siglo XXI? Hoy desconocemos todavía cuáles serán los nombres propios del futuro, ni el papel que podrán llegar a jugar, pero en cambio si podemos intuir el punto de partida sobre el que se construirán nuevas sendas o nuevas bifurcaciones en las antiguas ramas del árbol de la ciencia o del saber. Nuevas flores técnicas parecen brotar aquí o allí transformando las condiciones de toda teoría. Y sin embargo, dichas experiencias, como la intuición que pudiéramos llegar a vislumbrar de este incierto porvenir, tan sólo puede dibujarse siguiendo las líneas que han quedado grabadas en el pensamiento del siglo XX como guías o elementos de la gran transformación disciplinar provocada por las diferentes escuelas o movimientos que atraviesan la filosofía contemporánea; como si a partir de aquello que la historia de las ideas bautizó como el giro lingüístico todas ellas coludieran en la tarea de cerrar o concluir una especie de "revolución copernicana". Quizá pueda ser éste un nuevo enfoque para definir la noción de postmodernidad: la revelación de la evanescente y fungible presencia del sujeto en el pensamiento. En este sentido lo especialmente relevante, lo realmente importante en nuestro título es la conjunción. Sin duda la función de esta aparente e inofensiva letra no es la de enumerar, como por si un lado pudiera estudiarse a "Deleuze" "y", posteriormente, por otro, se orientara el foco hacia "la filosofía". Dicha enumeración tan sólo haría equiparar los términos puestos en juego, como si por un lado, como decíamos, hubiera una filosofía propiamente atribuible a Deleuze y en frente, como al margen o al borde de los libros, separado de la escritura del pensador francés, el resto de la filosofía con sus sistemas e historias de la filosofía. Nada más lejos. La conjunción que articula nuestro título señala, en efecto, hacia el modo en que Deleuze comprende la entera filosofía, no sólo sus propios trabajos, sino la historia de la filosofía como una especie de relato donde puede rastrearse la actividad específicamente creadora que caracteriza dicha disciplina: la creación de conceptos...
This thesis has as a title the name of an author and a discipline. Therefore, under its abbreviated and synthetic form is hidden the question: up to which point can an only name determine a science or a branch of wisdom in this damaged and prematurely old XXI century? Today is still unknown which ones will be the proper names of the future, or the role they could play, although we can start guessing the starting point from which new paths or new bifurcations in the old branches of the tree of science or wisdom will be built. New technical flowers seem to appear here or there, modifying the conditions of all theory. And, nevertheless, those experiences, such as the feeling that we may glimpse in the uncertain future, can only be drafted under the determined lines in the XX century thought or the elements of the great disciplinary transformation due to the different schools or movements that cross the contemporaneous philosophy; as if from this that history of ideas gave the name of the linguistic change every of them collude in the task of conclude a sort of "copernican revolution". Possibly this could be a new approach to define the idea of postmodernity: the revelation of evanescence and perishable presence of the individual in the thought. In this sense what is especially relevant, really important in our title is the conjunction. Doubtlessly the function of this apparently harmless letter is not to enumerate, as if in one hand "Deleuze" might be studied "and", lately, on the other hand the focus were oriented to "the philosophy". This enumeration only relate the terms in use, as if, as we mentioned before, would be a philosophy strictly attributable to Deleuze and in front of that, on the side-lines or at the edge of the books, apart from the writing of the French thinker, the rest of philosophy with its own systems and histories of the philosophy. The conjunction that articulates our title points out, indeed, the way how Deleuze understands the whole philosophy, not only his own works, but the history of philosophy as a sort of tale where can be tracked the specific creative activity that characterize this discipline: the creation of concepts...
Description
Tesis inédita de la Universidad Complutense de Madrid, Facultad de Filosofía, leída el 19-01-2016
Collections