Publication:
Poética de la obra fílmica de Luis Buñuel: etapa mexicana (1946-1964)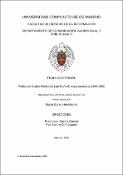 Authors
Editors
Publisher
Universidad Complutense de Madrid
Abstract
La investigación desarrollada en esta tesis doctoral se centra en las características de la estructura narrativa de las películas mexicanas del director Luis Buñuel. La intención es plasmar las propiedades de los elementos de la narración, así como su combinación y articulación en los proyectos que el cineasta aragonés dirigió entre los años 1946 y 1964 para la industria del cine mexicano. A pesar de lo extenso de la bibliografía sobre la figura de Buñuel, hay un vacío en el análisis narratológico de su obra mexicana. He ahí el principal argumento que justifica la realización de esta investigación, que se une al creciente interés por recopilar, preservar y difundir el legado de este director. Por tanto, el presente trabajo pretende ser una introducción al periodo más prolífero de su vida, –después de haber estado más de una década sin dirigir–, permitiendo observar la evolución de su obra y la configuración de un discurso personal que le llevará a alcanzar fama y prestigio internacional. El proyecto se compone de varias partes. En el primer bloque, se revisa una muestra significativa de la extensa literatura existente en torno a Luis Buñuel, lo cual permite contextualizar el estudio de este director en la actualidad. En este apartado se habla de la popularidad que ha ido adquiriendo la figura del cineasta aragonés en los últimos años en ámbitos tan diversos como la música, la conservación, la restauración, la museografía, entre otros. Por otra parte, se presentan algunos estudios de referencia acerca de su vida y su obra para finalizar con un repaso particular a los trabajos que se han centrado específicamente en el estudio de su periodo mexicano. Esta indagación permitió ver que los estudios realizados sobre la poética del cine que Buñuel realizó en México no son suficientes, pues se detectó la omisión sistemática de películas como Una mujer sin amor (1951), Abismos de pasión (1953) o El río y la muerte (1954), que forman parte de esta etapa pero que han sido dejadas de lado en comparación con la atención recibida por otras obras como Los olvidados (1950), Nazarín (1958) o El Ángel exterminador (1962)...
This research Ph.D. thesis centres its study on the characteristics of the narrative structure of the Mexican films directed by Luis Buñuel. The intention is to capture the properties of the elements of the narrative, as well as their combination and articulation in the projects that the Aragonese filmmaker headed between 1946 and 1964 for the Mexican movie industry. Despite extensive bibliography on the figure of Buñuel, there is a vacuum in the narratological analysis of its Mexican work. This is the main argument that justifies this research, that joins the growing interest to collect, preserve and disseminate the legacy of the director. This work is intended to be an introduction to the most prolific period of his life, -­‐ after more than one decade without directing-­‐, allowing to observe the evolution of his work and the configuration of a personal speech that will take you to reach a specific poetry. The project consists of several parts. In the first block, there is a review of a significant sample of the extensive literature around Luis Buñuel, which allows to contextualize the study of this director in the present time. This section refers to the popularity of the figure of the Aragonese filmmaker has acquired in recent years in areas as diverse as music, conservation, restoration and museology, among others. On the other hand, we talk about some studies about his life and his work to end with a special review of the works that have focused specifically on the study of the Mexican period of Buñuel. This investigation enabled to see that the studies on the poetics of cinema made by Buñuel in Mexico are not enough, because of the lack of films that are part of this period, like Una mujer sin amor (1951), Abismos de pasión (1953) or El río y la muerte (1954), which have been left margin compared with the attention received by works such Los olvidados (1950), Nazarín (1958) or El Ángel exterminador (1962)...
Description
Tesis inédita de la Universidad Complutense de Madrid, Facultad de Ciencias de la Información, Departamento de Comunicación Audiovisual y Publicidad II, leída el 17-12-2015
Collections