Publication:
Universidad inclusiva para la promoción de una sociedad inclusiva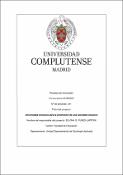 Advisors (or tutors)
Editors
Abstract
Se trata de un proyecto multidisciplinar centrado en desarrollar pensamiento así como actuaciones inclusivas e innovadoras a partir de la reflexión y la utilización de recursos para la promoción de la inclusión orientados a crear profesionales comprometidos con dichos valores. Además de la diversidad, se han incorporado nuevas líneas como las EBF, RRI y STEAM y ODS2030 y ciudadanía igualitaria, para concienciar contra las brechas en el acceso a los distintos recursos (tecnología, conocimiento, salud, servicios sociales, ocio, etc.) como parte del enfoque inclusivo. Por lo tanto, se trata de desarrollar una cultura inclusiva transversal. La metodología utilizada ha sido la investigación - acción y la participación de todos los agentes para generar una reflexión orientada a la acción y a los fines de promover la calidad de vida, la igualdad de oportunidades, la participación activa y la mejora social.
It is a multidisciplinary project focused on developing thought as well as inclusive and innovative actions based on reflection and the use of resources for the promotion of inclusion aimed at creating professionals committed to these values. In addition to diversity, new lines such as EBF, RRI and STEAM and SDG2030 and equal citizenship have been incorporated, to raise awareness against gaps in access to different resources (technology, knowledge, health, social services, leisure, etc.) as part of the inclusive approach. Therefore, it is about developing a transversal inclusive culture. The methodology used has been research - action and the participation of all agents to generate an action-oriented reflection and in order to promote quality of life, equal opportunities, active participation and social improvement.