Publication:
La expresión de "resubjetivación" de la identidad: una mirada "queer" a la obra de Abdellah Taïa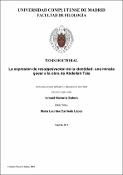 Authors
Advisors (or tutors)
Editors
Publisher
Universidad Complutense de Madrid
Abstract
La obra de A. Taïa se ha convertido en un ejemplo insoslayable de la modernidad de la literatura magrebina en lengua francesa. Esta tesis lleva a cabo un análisis en profundidad por primera vez de sus cuatro primeros textos publicados (Mon Maroc, Le Rouge du tarbouche, L´Armée du salut y Une mélancolie arabe) con el objetivo de estudiar la expresión de la resubjetivación de su identidad (Éribon: 1999) por medio del trabajo literario, es decir, la reescritura de una identidad assujettie. Para ello se estudia el corpus bajo una doble mirada: la de los estudios autobiográficos y autoficcionales y la mirada de la crítica queer. La primera mirada pretende determinar la naturaleza autobiográfica o autoficcional del corpus (Gasparini, 2011) (una cuestión que no ha sido establecida de forma exhaustiva por la crítica literaria) y su funcionalidad en este proceso de la resubjetivación. Además, este análisis ofrece también un estudio intrínseco de los textos (enunciación, temas, cronotopos, etc.). La segunda parte de este tesis lleva a cabo un análisis queer del corpus. Esta crítica, minoritaria en el conjunto de la crítica literaria francófona permite comprender la expresión de la resubjetivación de la identidad a partir de las teorías de D. Éribon (1999), es decir, analizar los procedimientos literarios y estilísticos utilizados por A. Taïa en el corpus para llevar a cabo el proceso mencionado. De este modo se aplican algunos conceptos de esta crítica como la homografesis de L. Edelman (1991) pero sin olvidar nunca la naturaleza literaria del corpus. Esta mirada se centra en tres núcleos insoslayables en este proceso: el cuerpo, la relación con el Otro y la sentimenthèque (la influencia del cine y de la literatura tanto en este proceso como en el origen de su actividad creadora). De este modo, la mirada queer ofrece una nueva perspectiva que cuestiona los límites de una concepción tradicional y esencialista de la identidad que encorseta al individuo al proponer una concepción postmoderna de la identidad siempre en constante evolución demostrando la riqueza subversiva de la obra de un escritor que se sitúa entre Occidente y Oriente.
The work of A. Taïa has become an unavoidable example of modernity in Maghreb literature written in French. This thesis analyse for the first time his first four published works (Mon Maroc, Le Rouge du tarbouche, L´Armée du salut and Une mélancolie arabe) with the objective of studying the expression of the resubjetivación of his identity (Éribon: 1999) through the literary work, that is to say, the rewriting of an identity assujettie. For that purpose the body of his work is analysed under a double view: from the autobiographic and autofictional studies and from the critique queer. The first part aims to determine the autobiographical or autofictional nature of his corpus (Gasparini, 2011) (a question not established in a comprehensive way by the critique) and its role in this process of resubjetivación. On top of that, this analysis offers an intrinsic study of his texts (enunciation, themes, chronotopes, etc.). The second part of this thesis analyse the body of the work under a queer eye. This critique, a minority in the pool of literary critique in French language let us understand the expression of the resubjetivación of the identity with the aid of the theories from D. Éribon (1999), in other words, analyse the literary and stylistic procedures used by A. Taïa in the body of his work to do this process. In this way some concepts from this critique literary like the homografesis de L. Edelman (1991) are used but with always a focus on the literary nature of the body of his work. This view is focused in three core and unavoidable elements of this process: the body, the relationship with the Other and the sentimenthèque (the influence of cinema and literature in this process as well in the origin of his creative activity). By this way, the queer eye offers a new perspective that challenges the limits of a traditional and essentialist conception of the identity which puts limits to the individual and provides with a postmodern concept of the identity always in continuous evolution, showing the subversive richness of a work from a writer placed between the West and the East.
Description
Tesis de la Universidad Complutense de Madrid, Facultad de Filología, leída el 11/12/2018
Collections