Publication:
Propiedades psicométricas del Inventario de Situaciones y Respuestas de Ansiedad Breve (ISRA-B)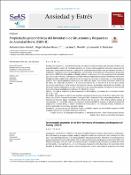 Advisors (or tutors)
Editors
Abstract
Propiedades psicométricas del Inventario de Situaciones y Respuestas de Ansiedad Breve (ISRA-B). Resumen. La ansiedad es la reacción emocional más estudiada, que nos pone en alerta ante la posibilidad de obtener un resultado negativo, por lo que resulta adaptativa en la gran mayoría de las ocasiones, aunque también está en la base de los trastornos emocionales más prevalentes. Por ello, su evaluación ha generado mucha investigación y transferencia. El Inventario de Situaciones y Respuestas de Ansiedad (ISRA) fue desarrollado en España, incluye 22 situaciones (S) y 24 respuestas (R) de ansiedad, que al cruzarlas se forman 224 reactivos (del tipo "en tal S, experimento esta R"). Desde hace más de tres décadas, ha sido ampliamente utilizado en la investigación, así como en la práctica, y se han publicado estudios sobre sus propiedades psicométricas en diferentes países. Una versión más breve (ISRA-B) de 46 ítems, sin contenidos cruzados SxR, sino una escala de 22 S y otra de 24 R, con las que evalúan las mismas 8 facetas de la ansiedad, ha mostrado buenas propiedades psicométricas también; sin embargo, existen menos publicaciones psicométricas en población española. El objetivo de este estudio fue analizar las propiedades psicométricas del ISRA-B en España. Para ello se contó con 3.346 voluntarios (36,4% hombres), con edades de 15 a 94 años (media: 30,3; D.E.: 14,6). Los resultados confirmaron excelente consistencia interna para Total (,94) y subescala R (,91), buena para S (,89) y sistemas de respuesta Fisiológico (,86) y Cognitivo (,84), y aceptable para Motor (,70). También se encontró buena estabilidad test-retest al cabo de un mes (,78) y buena validez externa al correlacionar ,87 con el ISRA original. La estructura factorial del ISRA-B obtenida se adecuó al modelo de Lang de tres sistemas de R y al modelo de Endler de interacción SxR, en los que se basa. Asimismo, se presentan los datos normativos, por sexo y grupo. Se concluye que el ISRA-B es válido y confiable, mejora su aplicabilidad respecto al ISRA original, conservando sus propiedades psicométricas. Palabras clave: ansiedad, evaluación, estructura factorial, ISRA.
Pyschometrical properties of the Brief Inventory of Situations and Responses of Anxiety (ISRA-B). Abstract. Anxiety is the most studied emotional reaction, which alerts us to the possibility of obtaining a negative result, making it adaptive in the vast majority of cases, although it is also the basis of emotional disorders, the most prevalent. Therefore, its evaluation has generated a lot of research and transfer. The Inventory of Situations and Responses of Anxiety (ISRA) was developed in Spain, includes 22 situations (S) and 24 responses (R) of anxiety, with which 224 items are formed by crossing them (of the type "in such Situation, I experience this Reaction"). For more than three decades, it has been widely used in research and in practice, and its psychometric properties has been published in different countries. A shorter version (ISRA-B) of 46 items, with contents not crossed SxR, but a scale of 22 S plus another of 24 R, was developed, with which the same 8 facets of anxiety were evaluated, showing good psychometric properties as well. However, there are few publications on psychometric data in the Spanish population. The objective of this study was to analyze the psychometric properties of ISRA-B in Spain. To do this, 3,346 volunteers (36.4% men), aged 15 to 94 years (mean: 30.3; SD: 14.6) were included. The results confirmed excellent internal consistency for the Total (.94) and for the Responses subscale (.91), good for the Situations (.89), as well as the Physiological (, 86) and Cognitive (. 84) response systems, and acceptable to the Motor (, 70). Good test-retest stability was also found after two months (, 78) and good external validity when correlating, 87 with the original ISRA. The results confirm the factor structure of the ISRA-B, adjusted to the Lang model of the three R systems and to the Endler model of the SxR interaction, on which it is based. Likewise, the normative data and are presented, differentiated by sex and group. It is concluded that the ISRA-B is a valid and reliable instrument, which improves its applicability compared to the original ISRA by simplifying its format and number of items, while preserving its psychometric properties. Keywords. Anxiety, Assessment, Factor Structure, ISRA.
Collections