Publication:
On the tension between growth rate and CMB data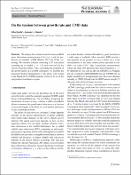 Advisors (or tutors)
Editors
Abstract
We analyze the claimed tension between redshift space distorsions measurements of f(z)sigma 8(z) and the predictions of standard Lambda CDM (Planck 2015 and 2018) cosmology. We consider a dataset consisting of 17 data points extending up to redshift z=1.52 and corrected for the Alcock-Paczynski effect. Thus, calculating the evolution of the growth factor in a wCDM cosmology, we find that the tension for the best fit parameters w, Omega m and sigma 8 with respect to the Planck 2018 Lambda CDM parameters is below 2 sigma in all the marginalized confidence regions.
Description
© The Author(s) 2020. This work has been partially supported by MINECO grant FIS2016-78859-P(AEI/FEDER, UE) and by Red Consolider MultiDark FPA2017-90566-REDC.
Collections