Publication:
Estudio de marcadores genéticos asociados a diabetes tipo 1 en población española con debut pediátrico y adulto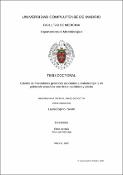 Files
Authors
Advisors (or tutors)
Editors
Publisher
Universidad Complutense de Madrid
Abstract
La diabetes tipo 1 (DT1) es una enfermedad autoinmune causada por la destrucción de las células productoras de insulina en el páncreas. Esta destrucción está mediada por linfocitos T autorreactivos y monocitos, y además existen componentes genéticos y ambientales que influyen en la susceptibilidad a padecer la enfermedad. Dentro del componente genético, el mayor determinante de la susceptibilidad a la DT1 se encuentra en la región HLA de clase II, en la que los haplotipos asociados a la enfermedad suponen el 50% de la carga genética. Los primeros estudios de asociación de genes candidatos establecieron 5 regiones que influyen en el riesgo a padecer DT1, pero el gran avance se ha dado en los últimos cinco años con el desarrollo de los estudios de barrido genómico (GWAS) que han permitido elevar a 50 el número de regiones asociadas a la enfermedad. en nuestro estudio en población española encontramos pequeñas diferencias en la susceptibilidad a DT1 conferida por los genes HLA de clase II que podrían indicar la presencia de diferencias poblacionales. Además, describimos la influencia de cuatro regiones cromosómicas en la edad de comienzo de la enfermedad. Este resultado apoya la necesidad de incluir este tipo de análisis en el estudio general de la genética de la DT1, con el objetivo de determinar los factores genéticos que puedan actuar como "aceleradores" de la enfermedad. Entre los genes candidatos seleccionados, describimos por primera vez la asociación del gen STAT4 a la DT1. Por último, la ausencia de asociación en el único gen no relacionado con el sistema inmunitario (G6PC2) concuerda con los estudios que apoyan que la base genética de la DT1 está formada principalmente por genes relacionados con la respuesta inmunitaria y que no existen defectos genéticos en el funcionamiento de las células beta que predispongan a la enfermedad. [ABSTRACT]Type 1 diabetes (T1D) is an autoimmune disease caused by the destruction of insulinproducing cells in the pancreas mediated by autorreactive T cells and monocytes. There is a genetic and an environmental component that influences T1D susceptibility. The strongest genetic modifier is located in the class II HLA region, in which certain haplotypes carry 50% of the genetic load of the disease. The association studies of candidate genes established 5 regions associated with T1D, but a more significant progress has been made in the last five years with the development of the genome-wide association studies (GWAS), which have increased the number of T1D genetic associations to 50 chromosome regions. Our study in a Spanish population provides with some interesting differences in the T1D susceptibility conferred by the HLA class II genes that could be caused by populational differences. We also describe the influence of four chromosome regions in the age at onset of T1D, a result that supports the need for including these analyses in the general study of T1D genetics to identify genetic factors that could accelerate or delay the disease onset. Among the selected candidate genes, we describe for the first time the association of STAT4 with the disease. Finally, no association was detected in G6PC2, the only selected gene that is not related with the immune system. This result is concordant with previous studies supporting that the genetic basis of T1D is composed mainly of genes related with the immune response.
Description
Tesis inédita de la Universidad Complutense de Madrid, Facultad de Medicina, Departamento de Microbiología I, leída el 17/10/2011
Collections