Publication:
Cuatro años de la Estrategia Global de la UE: hacia la autonomía estratégica pero lejos de un Ejército Europeo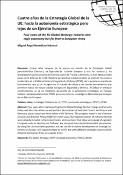 Authors
Advisors (or tutors)
Editors
Publisher
Universidad Nacional de La Plata
Abstract
Cuatro años después de la puesta en marcha de la Estrategia Global para la Política Exterior y de Seguridad de la Unión Europea y tras los avances y las declaraciones políticas tanto del Consejo como de Francia y Alemania, se han dado grandes pasos en la defensa de la UE. Desde la perspectiva institucionalista se analizan los avances producidos en la Política Común de Seguridad y Defensa (PCSD), de la puesta en marcha de instrumentos que ya se recogían en el tratado de Lisboa y de nuevas herramientas que permiten hablar de mayor unidad europea en Seguridad y Defensa. Al utilizar el enfoque constructivista, se ve un incipiente desarrollo de la autonomía estratégica en Europa, todavía complementaria de la OTAN, pero con culturas estratégicas diferentes que la alejan de un Ejército Europeo.
Four years after implementing the EU Global Strategy for the Foreign and Security Policy and after the advances and political declarations of both the Council and France and Germany, great steps have been taken in EU Defence. The progress made in the Common Security and Defense Policy (CSDP) in recent years, the implementation of instruments that were already included in the Lisbon treaty, and new tools that allow us to speak of a greater European unity in Security and Defense, are analysed from the institutionalist perspective. By using the constructivist approach, we can see the incipient development of strategic autonomy in Europe, still supplementary to NATO, but with different strategic cultures which distance themselves from a European Army.
Collections