Publication:
Representación política y democracia. Aportaciones desde la Teoría de la Representación en los últimos diez años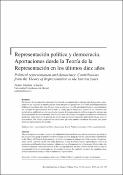 Authors
Advisors (or tutors)
Editors
Publisher
Asociación Española de Ciencia Política
Abstract
En esta nota de investigación se presenta cómo ha sido conceptualizada la relación entre democracia y representación por un grupo de autores que han destacado por sus aportaciones a la Teoría de la Representación Política en los últimos diez años. De esta forma se descubre un doble movimiento hacia el ensanchamiento del concepto de representación. Por un lado, se afirma que la democracia, incluso en sus versiones más participativas, deliberativas o incluso directas requiere de la representación política sin que ello suponga una necesaria pérdida de democraticidad. Por otro, se le resta al concepto las exigencias normativas consideradas intrínsecas hasta ahora por la mayoría de autores para acomodar situaciones tanto democráticas como no democráticas. Por último, exploraré las condiciones que estos autores consideran necesarias para poder hablar de representación democrática.
This investigation note aims to present the relationship between democracy and representation according to the accounts of a group of authors who have become renown along the last ten years for their contributions to the Theory of Political Representation. A double movement of enlargement of the concept of representation can be observed: on the one hand, democracy is said to always require representation, even in its participatory/deliberative/direct versions, without any loss of democraticity in that respect. On the other, the normative elements considered intrinsic to the concept until now by most authors are left aside in order to accommodate both non-democratic and democratic situations. To conclude, I explore the conditions these authors consider necessary to achieve democratic representation.
Collections