Publication:
España, la Santa Sede y el 48 europeo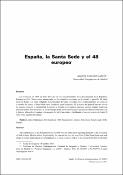 Authors
Advisors (or tutors)
Editors
Abstract
La revolución de 1848 en Italia tuvo una de sus manifestaciones en la proclamación de la República Romana en 1849. Meses antes, atemorizado por los disturbios crecientes en la ciudad, el papa Pío IX había huido de Roma y se había refugiado en la localidad de Gaeta. En todos estos acontecimientos, así como en el retorno del papa a la Santa Sede, tuvo España un papel destacado. El gobierno del general Narváez vio en los sucesos romanos la oportunidad de resituar a España en el contexto europeo, aunque siempre desde una posición neutral. Por otra parte, la ayuda al papa podía servir también para mejorar las difíciles relaciones con la Iglesia, allanando el camino a la negociación del concordato y facilitando el reconocimiento de Isabel II como reina legítima de España. [ABSTRACT]The establishment of the Roman Republic in 1849 was one of the most important moments of the revolution of 1848 in Italy. Months before, frightened by the riots in the city, the pope Pius IX fled from Rome and took refuge in Gaeta. Spain played an outstanding role in these events as well as in the return of the Pope to the Holy See. The government of Narváez thought that the Roman revolution could be an opportunity to relocate Spain in the European context in a neutral position. Helping the Pope, Spanish government could also improve the relatioships with the Church and obtain the recognition of Isabel II as the legitimate queen of Spain.
Collections