Publication:
La potencialidad creativa de la piel animal: Artesculp, arte y tradición en el proceso de transculturación del territorio rural español a partir de 1950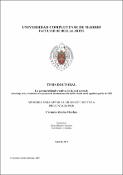 Authors
Advisors (or tutors)
Editors
Publisher
Universidad Complutense de Madrid
Abstract
Esta investigación aborda, desde el campo del arte, el análisis de determinadas actividades creativas, culturalmente arraigadas en el espacio rural español en los años sesenta, focalizando el estudio sobre aquellas que tienen como principal objetivo, la decoración de los animales de labor, para su exhibición en las fiestas tradicionales como la romería. Una celebración compleja, de acciones individuales y colectivas, que forma parte del patrimonio cultural inmaterial, en la que se concentran una parte importante de los signos culturales de un pueblo, acciones que facilitan la cohesión del grupo y reafirman los lazos identitarios del individuo con su entorno, su memoria y su historia. Dentro del conjunto de prácticas artísticas populares que se producen en el ámbito rural, este estudio analiza las centradas en la decoración de la piel de los animales, y en concreto en los procedimientos englobados bajo la técnica denominada Artesculp. Se afronta un largo proceso de creación e investigación artística, que comenzó Ramón Alcolea a mediados del siglo XX, con unos sencillos dibujos ornamentales de esquileo artístico sobre una mula viva, y que en la actualidad se ha trasformado en una singular forma de expresión y comunicación artística sobre una piel de animal curtida con el pelo...
This research focusses, from the field of art, on the analysis of certain creative activities, culturally rooted in the Spanish rural space in the sixties, focusing the study on those whose main objective is the decoration of farm animals, for its exhibition in traditional festivals such as the romeria. It is a complex celebration of individual and collective actions, which is part of the intangible cultural heritage,in which an important part of the cultural signs of a people are concentrated, actions that facilitate the cohesion of the group and reaffirm the identity bonds of the individual with their environment, its memory and its history. Within the popular artistic practices that occur in rural areas, this study focuses on the decoration of the skin of animals, and specifically in the procedures which the technique called Artesculp incorporates. A long process of creation and artistic research, was started by Ramón Alcolea in the middle of the 20th century, with simple ornamental drawings of artistic shearing on a living mule, which has now been transformed into a unique form of artistic expression and communication, on an tannned animal skin with the hair...
Description
Tesis inédita de la Universidad Complutense de Madrid, Facultad de Bellas Artes, leída el 22-11-2019
Collections