Publication:
Los metagranitos de las Unidades Basales de los complejos alóctonos de Galicia (NO del Macizo Ibérico): Evolución geoquímica y contexto geodinámico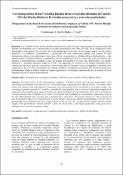 Advisors (or tutors)
Editors
Publisher
Sociedad Geológica de España.
Abstract
Las Unidades Basales de los complejos alóctonos de Galicia incluyen rocas metamórficas paraderivadas que alternan con abundantes rocas ortoderivadas con edades comprendidas entre 500 y 470 Ma. Por su composición, tanto mineralógica como química de roca total, las rocas ortoderivadas se dividen en dos grandes grupos: uno de gneises graníticos s.l. (tonalíticos, granodioríticos y graníticos), con una composición química que transita de tipos magnesianos-cálcicos meta-aluminosos, hasta tipos férricos calcoalcalinos y alcalino-cálcicos peralumínicos; y otro segundo grupo de gneises alcalinos y peralcalinos con una composición férrico alcalina que varía de términos peralcalinos a meta-aluminosos, llegando a tener un carácter per-alumínico los tipos más diferenciados. Los gneises graníticos s.l. presentan anomalías negativas en Nb y Ta, sugiriendo su relación con un margen continental activo, mientras que las rocas alcalinas y peralcalinas están enriquecidas en elementos traza incompatibles y presentan altos contenidos en Th, Ga y Nb, característicos de magmas asociados a un régimen extensional. Esta evolución geoquímica probablemente refleja el tránsito desde un régimen geodinámico convergente caracterizado por un sistema de arcos magmáticos hacia un rifting intracontinental.
The Basal Units of the allochthonous complexes of Galicia include para-derived metamorphic rocks alternating with abundant ortho-derived rocks with protolith ages ranging between 500 and 470 Ma. According to their whole-rock chemical and mineralogical composition, the ortho-derived rocks are divided in two major groups: one consisting of granitic gneisses s.l. (tonalitic, granodioritic, and granitic) with a chemical composition ranging from magnesian calcic metaluminous types to ferroan calc-alkalic and alkali-calcic peraluminous types, and a second group including alkaline and peralkaline terms, with ferroan alkalic and peralkaline to metaluminous composition, some of the most differentiated terms reaching also a peraluminous composition. The granitic gneisses s.l. show negative Nb and Ta anomalies, typical for rocks formed in an active margin, whereas the alkaline and peralkaline rocks are rich in incompatible trace elements and show a high content of Th, Ga and Nb, as expected for crustal extension-related magmas. This geochemical evolution probably reflects the switch from a convergent geodynamic setting featured by magmatic arcs to an intracontinental rifting.
Collections