Publication:
Variabilidad interindividual en denominación, comprensión de oraciones y funciones ejecutivas en personas mayores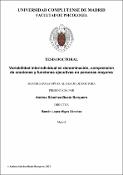 Files
Authors
Advisors (or tutors)
Editors
Publisher
Universidad Complutense de Madrid
Abstract
La tercera edad es un periodo del ciclo vital caracterizado por una serie de cambios que afectan a distintas dimensiones, incluidos los que se refieren al dominio cognitivo. Se ha constatado que el proceso de envejecimiento no presenta una forma común para todos los individuos, por ello se habla de variabilidad interindividual o diversidad, términos que introducen autores como Hultsch, MacDonald y Dixon (2002) o Hedden y Gabrieli (2004). Se ha establecido una asociación entre envejecimiento y variabilidad (Bastin et al., 2012), es decir, a medida que las personas envejecen se produce un aumento significativo de la diversidad (Drag y Bieliauskas, 2010). Desde un punto de vista práctico se ha considerado que un aumento de la variabilidad puede ser un indicador relacionado con un proceso patológico (Hedden y Gabrieli, 2004), mayor deterioro cognitivo o mayor neurodegeneración subyacente (Ferreira et al., 2017)...
Old age is a stage of the life cycle characterized by a series of changes that affect several aspects, including those that refer to the cognitive domain. It has been found that the aging process does not present a common form for all individuals, and it is for this reason that there is talk of inter-individual variability or diversity — terms introduced by authors such as Hultsch, MacDonald, and Dixon (2002) or Hedden and Gabrieli (2004). An association between aging and variability has been established (Bastin et al., 2012), that is, as people age, there is a significant increase in diversity (Drag and Bieliauskas, 2010). From a practical point of view, it has been considered that an increase in variability may be an indicator related to a pathological process (Hedden and Gabrieli, 2004), greater cognitive deterioration, or greater underlying neurodegeneration (Ferreira et al., 2017)...
Description
Tesis inédita de la Universidad Complutense de Madrid, Facultad de Psicología, Departamento de psicología experimental, Procesos Cognitivos y Logopedia, leída el 22/01/2021
Collections