Publication:
Alteraciones genómicas en carcinoma epidermoide de ano localizado: secuenciación del exoma completo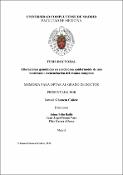 Files
Authors
Advisors (or tutors)
Editors
Publisher
Universidad Complutense de Madrid
Abstract
El carcinoma epidermoide de ano es una neoplasia poco frecuente con una incidencia creciente a nivel global. Aunque es más frecuente en la mujer, la población de mayor riesgo son los varones que mantienen relaciones sexuales con varones, especialmente en la población infectada por el virus de la inmunodeficiencia humana. En el 85% de los casos la base etiopatogénica se fundamenta en la persistencia de infección por genotipos de alto riesgo del virus del papiloma humano, favorecida por la inmunodepresión y el consumo de tabaco. Las oncoproteínas virales E6 y E7 promueven la degradación de p53 yRb, respectivamente, en la célula huésped, favoreciendo la transformación a carcinoma infiltrante. Algunos factores clínicos de mal pronóstico son el sexo masculino, la afectación ganglionar, el tamaño mayor a 5 cm, o la presencia de ulceración cutánea. Menos evidencia existe acerca de los factores pronósticos moleculares. El tratamiento de la enfermedad localizada se basa en la administración de radioterapia concurrente con mitomicina y fluoropirimidinas desde la década de los 70. A pesar de esta aproximación terapéutica, uno de cada tres pacientes presentará una recaída, habitualmente local.
The anal squamous cell carcinoma is an infrequent neoplasia with an increasing incidence worldwide. Although it is more frequent in women, the higher risk population are men who have sex with men, particularly in HIV-infected population. In 85% of cases, the etiopathogenesis is based on the persistence of high-risk human papilloma virus infection, facilitated by tobacco consumption and immunodepression. The viral oncoproteins E6 and E7 promote the degradation of p53 and Rb respectively in the host cell, inducing the transformation into infiltrative carcinoma. Some poor prognostic clinical factors are male sex, lymphnode involvement, size greater than 5 cm or the presence of cutaneous ulceration. Less evidence exists about molecular prognostic factors. From 1970s,the treatment in the localized disease consists on the administration of radiation concurrently with mitomycin and fluoropyrimidines. In spite of this therapeutic approach, one of every four patients will have a relapse, usually local...
Description
Tesis inédita de la Universidad Complutense de Madrid, Facultad de Medicina, leída el 25-11-2019
Collections