Publication:
Repensar la relación entre seguridad y ciudadanía: La regulación europea de la trata de mujeres con fines de explotación sexual como caso de estudio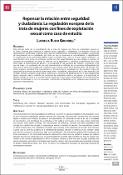 Authors
Advisors (or tutors)
Editors
Publisher
Universidad Autónoma de Madrid
Abstract
Este artículo parte de la securitización de la trata de mujeres con fines de explotación sexual en la Unión Europea para repensar la relación entre seguridad y ciudadanía. Los estudios críticos de seguridad han comenzado a abordar esta relación recientemente, centrándose en analizar los procesos de securitización de la ciudadanía, así como su uso en procesos de securitización, e identificando la constitución de la comunidad política como el ámbito más claro en el que ambas confluyen. La securitización de la trata, sin embargo, cuenta con tres especificidades que nos obligan a repensar el concepto de ciudadanía, así como su relación con la seguridad: el contexto transnacional en el que tiene lugar, la importancia del género y la sexualidad en los procesos de inclusión y exclusión a los que da lugar, y la existencia de una red transnacional de defensa de las personas trabajadoras del sexo que se sirve del concepto de ciudadanía para luchar contra dicha securitización. El artículo, por tanto, propone introducir tres innovaciones en el marco teórico empleado por los estudios críticos de seguridad para abordar la relación entre seguridad y ciudadanía, adecuándolo así al caso específico de la trata: primero, propone situar dicha relación en el contexto de globalización en el que actualmente opera; segundo, traer a colación los conceptos de ciudadanía sexual y de género, y en particular, el debate surgido en torno a su relación con las prácticas orientalistas e imperialistas de las democracias liberales occidentales; y tercero, recuperar la dimensión ambivalente de la ciudadanía para resaltar su potencial emancipatorio.
This article starts from the securitisation of trafficking in women for sexual exploitation in the European Union so as to rethink the relationship between security and citizenship. Critical security studies have only recently began to explore such relation, focusing on the securitisation of citizenship as well as its use in processes of securitisation, and identifying the constitution of the political community as the place where citizenship and security most clearly converge. The securitisation of trafficking, however, has three specificities that compel us to rethink the concept of citizenship as well as its relation to security: the transnational context in which it takes place, the importance of gender and sexuality in the processes of inclusion and exclusion it gives way to, and the existence of a transnational advocacy network in defence of sex workers' rights that uses the concept of citizenship to fight such securitisation. The article thus proposes the introduction of three innovations in the theoretical framework employed by critical security studies to analyse the relation between security and citizenship so as to accommodate the concrete case of trafficking: first, to situate such relation in the context of globalisation in which it operates; second, to draw from the concepts of gender and sexual citizenship, particularly the debate regarding their relation with the orientalist and imperialist practices of western liberal democracies, and, third, to recover the ambivalent dimension of citizenship stressing its emancipatory potential.
Collections