Publication:
Estudio morfológico de la estructura dentaria con microscopía electrónica de barrido en pacientes con osteogénesis imperfecta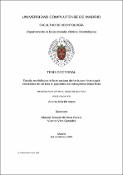 Files
Authors
Advisors (or tutors)
Nova García, Manuel Joaquín de
Editors
Publisher
Universidad Complutense de Madrid
Abstract
La Dentinogénesis Imperfecta (DGI) tipo I es una afectación hereditaria de la dentina que se asocia a la Osteogénesis Imperfecta (OI). La alteración del metabolismo del colágeno tipo I, principalmente a nivel de los genes COL1A1 y COL1A2, da lugar a anomalías en la estructura dentaria, que se manifiestan mediante alteraciones dentarias a nivel clínico y radiográfico. Los avances científicos han permitido un mejor conocimiento de la enfermedad, sin embargo, es necesario un estudio que analice las anomalías ultraestructurales dentarias de forma protocolizada, aportando una definición adecuada de la DGI-I...
Dentinogenesis Imperfecta (DGI) is a hereditary condition of dentin that is associated with Osteogenesis Imperfecta (OI). The alteration of the metabolism of type I collagen, mainly at the level of the COL1A1 and COL1A2 genes, gives rise to anomalies in the dental structure, which is manifested by clinical and radiographic dental alterations. Although scientific advances have allowed a better knowledge of the disease, it's necessary a protocolized study that analyses the ultrastructural anomalies, providing an adequate definition of the DGI-I...
Description
Tesis inédita de la Universidad Complutense de Madrid, Facultad de Odontología, Departamento de Especialidades Clínicas Odontológicas, leída el 24/05/2019
Collections