Publication:
Autenticación de vídeos MOV usando el contenedor H.264/AVC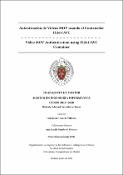 Authors
Advisors (or tutors)
Editors
Abstract
En la actualidad la cámara fotográfica más popular del mundo es el teléfono móvil. Estos dispositivos traen nuevas funciones que crecen vertiginosamente y hacen que sean de uso general por la mayoría de personas. Todavía quedan cosas por mejorar pero dada la inversión realizada en ellos, es solo cuestión de tiempo para que se hagan con el mercado. Este marco hace que el análisis a nivel forense de videos tome mucho peso y sea necesario y significativo en un sin número de circunstancias como pueden ser pruebas judiciales, pesquisas, abuso de menores, sustitución de identidad, etc. En este trabajo se ha desarrollado un método que analiza el contenido del contenedor de vídeos con formato MOV. La técnica se cimienta en la extracción de información contenida en el contenedor multimedia y operaciones de análisis de datos. El objetivo del método es analizar la información extraída a nivel de dispositivos, modelos y fabricantes de dispositivos móviles para identificar el origen de un vídeo dado. Además, haciendo uso de otra herramienta previamente desarrollada se realiza comparaciones de la información extraída de videos procesados por redes sociales y aplicaciones de edición de vídeos. Las herramientas u origen de información usadas para el progreso de la técnica propuesta son por un lado, las especificaciones de los estándares y por otro, las investigaciones previas dedicadas al análisis de otros tipos de contenedores multimedia. Asimismo, para el análisis se hace uso de un dataset de vídeos con características esenciales para que el resultado sea eficiente y lo más preciso posible.
Currently the most popular camera in the world is the mobile phone. these devices bring new functions that grow rapidly and make them commonly used by most people. there are still things to improve but given the investment made in them, it is only a matter of time for them to take over the market. this framework makes the forensic analysis of videos take a lot of weight and is necessary and signifcant in countless circumstances such as judicial evidence, investigations, child abuse, identity substitution, etc. this work has developed a method that analyzes the content of the container of videos in MOV format. the technique is based on the extraction of information contained in the multimedia container and data analysis operations. the objective of the method is to analyze the information extracted at the level of devices, models and manufacturers of mobile devices to identify the origin of a given video. In addition, using another previously developed tool, comparisons are made of the information extracted from videos processed by social networks and video editing applications. the tools or source of information used for the progress of the proposed technique are, on the one hand, the specifcations of the standards and, on the other, the previous investigations dedicated to the analysis of other types of multimedia containers. Also, the analysis uses a video dataset with essential characteristics so that the result is effcient and as accurate as possible.
Description
Trabajo Fin de Máster en Ingeniería Informática, Facultad de Informática UCM, Departamento de Ingeniería del Software e Inteligencia Artificial, Curso 2019/2020.