Publication:
Estudio de la reparación de las lesiones del manguito rotador mediante compuestos transportador-BMP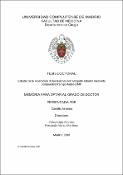 Files
Authors
Advisors (or tutors)
Editors
Publisher
Universidad Complutense de Madrid
Abstract
Las roturas del manguito rotador afectan aproximadamente al 30% de la población mayor de 60 años. Aunque algunos estudios abogan por el tratamiento conservador de las roturas completas, el tratamiento más empleado es la reparación quirúrgica. Sin embargo, a pesar de los buenos resultados clínicos y de los avances técnicos que incrementan la fortaleza mecánica de la sutura, se recogen porcentajes de rerrotura tras su reparación que oscilan entre un 16% y un 94% según las series. Este hecho nos lleva a buscar otro tipo de estrategias biológicas destinadas a mejorar dicha reparación. El empleo de transportadores que vehiculicen factores de crecimiento es uno de los pilares en los procesos de ingeniería titular. La familia de las Proteínas Morfogeneticas Óseas (BMP) son los factores de crecimiento con capacidades osteoinductivas más potentes y hay varios estudios que sugieren beneficios de estos en el tratamiento de las lesiones del manguito rotador mejorando las propiedades biomecánicas y favoreciendo la diferenciación tendinosa. Así mismo, son muchos los biomateriales que se han probado con la finalidad de promover la reparación de las lesiones, incrementar la fortaleza mecánica de la sutura y actuar como transportadores de factores de crecimiento y/o células...
Rotator cuff tears can be found in around 30% of the population above 60 years. Even though some studies suggest a conservative treatment, surgery is the most common treatment of complete rotator cuff tears. However, despite good clinical results and technological improvements to augment the strength of the suture, the incidence of rerupture has been reported to be between 16% and 94%. We are therefore obliged to search other biological strategies to further enhance the reparation such as scaffolds that can be used to release growth factors. The family of the Bone Morphogenetic Proteins (BMP) are one of the most osteoinductive growth factors and several studies suggest benefits of these in the treatment of rotator cuff tears. They would provide better biomechanical properties as well as promote the formation and differentiarion of tendon tissue. Many biomaterials have been used to try to enhance the reparation of the rotator cuff lesions, to augment the mechanical strength of the suture and to act as a transporter of growth factors and/or cells...
Description
Tesis inédita de la Universidad Complutense de Madrid, Facultad de Medicina, Departamento de Cirugía, leída el 27-03-2017
Collections