Publication:
Interactions between high and low-virulence isolates of Neospora Caninum and the bovine placenta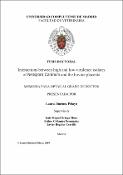 Authors
Editors
Publisher
Universidad Complutense de Madrid
Abstract
Bovine neosporosis is one of the most important causes of abortion in cattle worldwide and Neospora caninum, an apicomplexan protozoan parasite, is the causal agent of the disease. Millionaire economic losses have been estimated in infected cattle, mainly associated with the reproductive failure. N. caninum is very effective at crossing the placental barrier and placental damage is crucial in the pathogenesis of abortion. In addition, infection during pregnancy poses a challenge for the immune system of pregnant cows. Changes in the T helper 1 and T helper 2 balance in the placenta during gestation have been associated with abortion. Bovine trophoblast and caruncular cell layers are key cellular components at the maternal-foetal interface in placentomes, playing a fundamental role in placental functionality. In addition to their role as a barrier, those cells are able to recognize and induce immune responses against N. caninum, participating in the initiation of innate immune responses at the placental level as well as in the development of an adaptative immune response...
La neosporosis bovina es una de las causas más importantes de aborto en el ganado vacuno a nivel mundial. Dicha enfermedad está causada por el protozoo apicomplejo Neospora caninum, un parásito intracelular obligado formador de quistes tisulares, estrechamente relacionado con Toxoplasma gondii. La infección con este parásito causa cuantiosas pérdidas económicas en todo el mundo, principalmente asociadas al fallo reproductivo. N. caninum es capaz de cruzar la barrera placentaria de forma muy eficaz y el daño producido en la placenta al transmitirse al feto es crucial en la patogénesis del aborto. Además, la infección durante la gestación representa un desafío para el sistema inmunológico de los animales infectados. De hecho, desequilibrios en el balance de la respuesta de tipo Th1 y Th2 en la placenta durante la gestación se han asociado con el aborto. Las células del trofoblasto bovino junto con las células epiteliales de la carúncula componen la interfaz materno-fetal de los placentomas, desempeñando un papel fundamental en la funcionalidad de la placenta. Además de su papel como barrera física, impidiendo el paso de sustancias tóxicas y agentes patógenos de la madre al feto, estas células son capaces de reconocer e inducir respuestas inmunitarias frente a N. caninum, participando en la iniciación de respuestas inmunitarias innatas a nivel de la placenta, así como en el desarrollo de una respuesta inmunitaria adaptativa...
Description
Tesis inédita de la Universidad Complutense de Madrid, Facultad de Veterinaria, Departamento de Sanidad Animal, leída el 29-11-2019
Collections